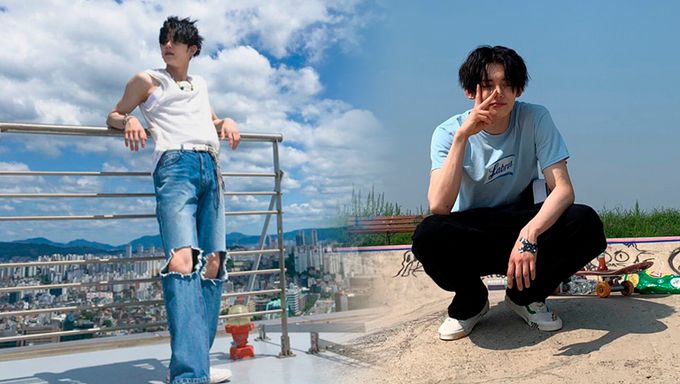 Welcome to the thirteenth article of Kpopmap's series introducing the must-follow idols posting boyfriend material pictures.
VICTON's ByungChan, SF9's Yoo TaeYang, ATEEZ's SeongHwa, NCT's DoYoung, THE BOYZ's Q, MONSTA X's HyungWon, WonHo, CIX's SeungHun, AB6IX's Jeon Woong, WEi's Kim JunSeo, MIRAE's Son DongPyo, and ONEUS's KeonHee were previously covered on the series. Readers wanted to see TXT's YeonJun in our following article (poll), so here it is!
TXT's YeonJun is an idol we can't miss mentioning when talking about boyfriend material pictures. He takes pictures that make you scroll up your timeline with his outstanding cool poses and charisma. YeonJun likes to post selfies with strong vibes but also stunning full-shot pictures. 
YeonJun is known for his handsome looks, and he has stolen the heart of fans with his killer smile. 
In his pictures, the idol is radiating tsundere vibes and chic tones.  
He knows how to gather all his charisma in his shots. 
YeonJun likes to post selfies giving fans a closer look at his captivating eyes.
Since he takes a lot of pictures with his stage outfits, he often posts photos with lenses giving new colors to his eyes. 
One of his favorite poses is this flipped V under his eyes (get a glimpse of his style for over 1 year). It is an in-between cute and chic pose.
He takes selfies with his mouth open too. 
Next, it is time to talk about his tall figure. With his full shots, he definitely looks like a model ready for a catwalk. 
Here are our favorite pictures: squatting pictures! They have strong and unique vibes. 
YeonJun somehow looks straight out of a webtoon in these squatting pictures. 
Following, he has coooool vibes that make you look twice at his seating pictures (we can see you trying to zoom on these pictures!).  
YeonJun also posts more casual pictures while practicing. For example, here are a few mirror selfies from the practice room.
Fans are in love with YeonJun's duality and his different styling, and he does not forget to post pictures of it. 
To close this article, we can't forget to mention a few more cute pictures of YeonJun. 
TXT's latest Korean comeback was with their repackaged album "The Chaos Chapter: FIGHT OR ESCAPE" and title track 'LO$ER=LO♡ER'. In addition, they are preparing for a Japanese comeback with mini-album "Chaotic Wonderland" this November. 
If you are new to YeonJun, you can check his dance cover of Harry Styles 'Watermelon Sugar' & Ed Sheeran, Bruno Mars, Chris Stapleton 'BLOW' here and his fancam for 'LO$ER=LO♡ER' here. 
If you are not yet following YeonJun, it is time to do so. You can follow him on TXT's Twitter.
Kpopmap is listening to readers' opinions. Let us know yours by answering the poll below.
Who would you like to see in our next week's article?
Oct 08, 2021 ~ Oct 11, 2021
ASTRO's MoonBin
45.3% (2,360)
TREASURE's JiHoon
8.7% (453)
UP10TION's Kim WooSeok
0.3% (15)
NU'EST's MinHyun
7.4% (388)
ENHYPEN's SungHoon
33.3% (1,738)
Stray Kids' Lee Know
3.7% (193)
Important notice: the vote is only deciding who will be covered first (next week). Everyone on that list will be covered in the series.
You can also suggest idols who post a lot of boyfriend material pictures in the comments (only idols who often posted in the past year). We have included some fans' suggestions in the line-up already. For now, we are only covering one member for one group. Next year, we will start the second line-up (a second member in groups already covered) composed of ASTRO's Rocky, MIRAE's Khael, and more (as you have suggested to us in the comments).
Note: the photos used in this series were posted after February/April 2020.
Don't forget to check out all previous articles of the boyfriend material series, you can find them directly from this collective list:
You can check last week's pick below: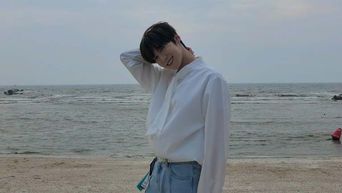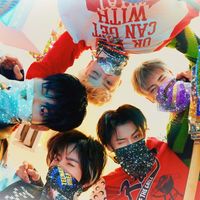 Became a fan of TXT
You can now view more their stories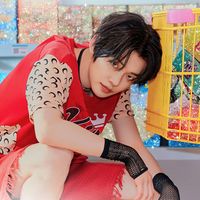 Became a fan of YeonJun
You can now view more their stories