TWICE's members are accelerating to debut successfully in Japan. Here's a translation of Japanese interview with TWICE.
Anyone curious about TWICE members who are recently silent than any other season in Korea? The reason why we can't see them in Korean TV programs is they are going to debut in Japan after having short vacation. After TWICE's appearance in Japan, TWICE's popularity goes higher everyday. So, there are lots of media and magazine which want TWICE members to appear in their media. 'non-no', the famous Japanese magazine, had a interview with TWICE members recently, and we Kpopmap translated it for you! Let's check out what lovely TWICE said here!
1. Tzuyu
Q. What do you want the most RN?
I love animals so much so I raise Chihuahua whose name is Gucci, in my Taiwan house. RN I want to meet Gucci so bad.
Q. What's your secret way to keep your beautiful looks?
My face often swells up, so I usually have a lower-body bathing for about 20 minutes. Because members scold me if I stay there too long LOL.
Q. Let us know make-up point that only Tzuyu Knows!
I put make-up according to my feeling or atmosphere day by day. What makes it look different is, I think, how I draw my eye line.
2. ChaeYoung
Q. What are you doing to keep your beautiful looks?
I exercise to strengthen the abdominal muscles before I go to bed since I was a trainee. And I usually don't eat snacks.
Q. What's your know-how for make-up?
My eye make-up is basically very soft. And I just put a little bit dark color on my lips.
Q. What do you want to have the most RN?
Laptop. NaYeon unnie was the first member who bought a laptop, and all the members are starting to buy laptop...I really want to have one too.
Tzuyu & ChaeYoung 
Q. Introduce each other!
Tzuyu: ChaeYoung is the coolest one who don't care even if something big happens. She is also good painter. But if there is one thing ChaeYoung lacks...ChaeYoung is not used to get up early in the morning! It's so hard for me to wake up ChaeYoung every morning!
ChaeYoung: I am sorry ♡ After working, when I'm home, all the members take shower but Tzuyu usally spaces out. 
Tzuyu: I'm so active in the morning but at night, I need to be charged because my battery is out...LOL
ChaeYoung: Tzuyu is so pure and warm-hearted person. She is sometimes so strong that she could't shed tears usually, but she cried fast than any other members when she is watching animal related TV programs.
Tzuyu: Indeed. I am so weak when it comes to animals. 
Must Read : TWICE Gets Questioned of Their Ability as Idols after Singing Live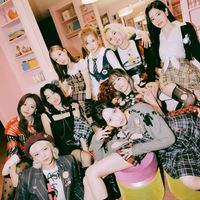 Became a fan of TWICE
You can now view more their stories