One of a kind married idol, Eli of U-KISS are making dads worry and moms envy through the recent episode of "Mr House Husband".
On the 17th, a new episode of "Mr House Husband" aired on KBS featuring Eli and his beautiful family of three. After the show, Eli's name shot up in the search bar rankings thanks to his unbelievably caring and considerate affection towards his wife.
The episode showed Eli taking care of his baby son, MinSoo, with his wife who is 11 years old than him. Even through the age difference, Eli showed great leadership and his signature manly affection towards his spouse. He would do simple things, such as offering to take care of the baby while she rests and acknowledging how difficult it must be for her to take care of the baby while he's away on his schedules. He also showered her with burning displays of affection as he would cutely give her a peck on the lips and joke about needing their own space away from their adorable son. Although Eli's ratings among female viewers sky rocketed, dads everywhere are worried that they're going to have to step up their own game at home.
Eli also showed his responsible side as a father and a husband. The couple legally registered themselves as a spouse, but have yet been able to hold an actual ceremony. With fans leaving his side after his marriage, Eli struggles to balance our his idol career and the piling on debt from providing for a family. Even so, Eli never lets that bring down their family's happiness as he continually showers them with love.
Must Read : 10 Things: K-Pop Idols Who Dated and Married While Active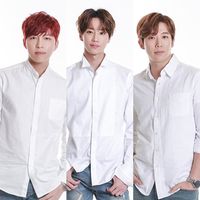 Became a fan of U-KISS
You can now view more their stories