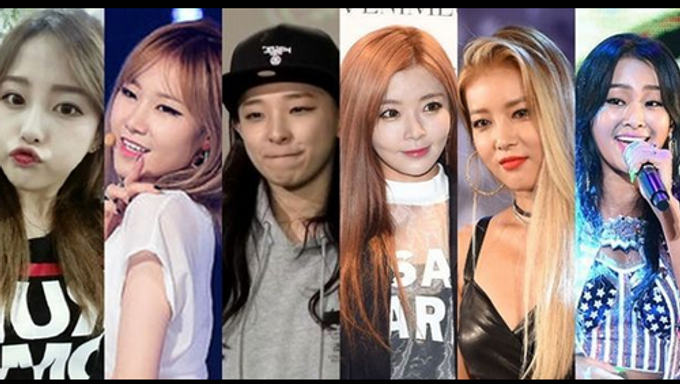 Mnet's female rapping survival program 'Unpretty Rapstar' was once again full of tension and excitement.  They're now back in the game as a season 2. The pre-production for the second season of 'Unpretty Rapstar' is now underway, and its nu season will air in September this year. The offbeat program is a 2015 South Korean music competition program focusing on female rappers.
And its nearly a perfect cast lineup for the show has been released, including Wonder Girls Yubin, YG Trainee Jennie Kim, SISTAR Hyorin, Ahn Soo Min, Kasper, Fiestar's Yezi,  Gilme, and KittiB. All of them who were unveiled up to now become fixed members. Eight talented female rappers will be battling it out starting September.
Its PD gives a cheer to the haunting female rap stars saying that It has always been difficult for female rappers to get noticed in the hip hop world which is dominated by males. I wanted to support our female rappers' dreams by providing them a stage on which to fully show off their skills.
So check out the full team lineups through the profile below. Which female rapper are you most looking forward to?
Unpretty Rapstar Season 2
- Confirmed Line-Up - 
Wonder Girls Yubin
1988. 10. 4
Position in Wonder Girls : Main Rapper, Sub-Vocalist
Instagram: @yubstagram88
Twitter: @WGyubin
Specialty : In 2007, she was supposed to debut with G.NA, Hyosung (SECRET), UEE (After School), and Jiwon (SPICA) as girl group 'Five Girls' but they disbanded.
SISTAR Hyorin
1991. 1. 11
Position in SISTAR : Leader, Main Vocalist, Rapper, Face of The Group
Specialty : Vocal and Dance
YG Trainee Jennie Kim
1996. 01. 16
Position in PINK PUNK : Leader, Rapper, Sub Vocal
Activities : GD's 'That xx' appearance / GD's 'Black' featuring / Lee Hi's 'Special' & Seungri's 'GG'featuring
Fiestar Yezi
1994. 8. 26
Position in Fiestar : Main Rapper
Twitter: @FIESTAR__Yezi
Gilme
1983. 4. 10
Position in Clover : Main Rapper, Lead-Vocalist
Instagram : @gilmebaby
Twitter : @gilmebaby
Specialty : She is a member of the project group Clover with entertainer Eun-Jiwon.
KASPER
1993. 4. 17
Twitter: @KASPER417
Specialty : She's Unpretty Rapstar Season1's rookie girl, KISUM's palsy-walsy friend.
KittiB

Specialty : She is well-known for being a very competitive participant who has years of experience as an under ground rapper.
Ahn Soo Min
Specialty : After Ahn Soo Min's appearance on 'SMTM4', her past audition on 'Superstar K' back in 2009 has been receiving attention.
If we get more info about them, it can be changed immediately!