UP10TION, after a busy summer, touring around the globe, closed their successful series of European concerts in London. Kpopmap was invited by Beyond Enterprise on the 23rd of September to attend their full 2-hour long concert.
UP10TION's UK stop was held at a central London venue with the capacity of around 600 people, despite not being completely full the dedicated fans of the band were very passionate. Even before the band entered the stage, they were loudly shouting along the lyrics of their favourite songs, filling the room with positive vibes and excitement. Most of them were already hyped up as earlier on the same day they had the chance to meet their idols, take selfies, get the guys autographs and participate in a high touch event. That is what makes events like these so special; being able to have one to one experiences with the artists is very rare for international fans. Thanks to opportunities like these they can now have a one in a lifetime experience that they will cherish forever.
Despite some short delays during the earlier events, the concert started right on time. The 10 charismatic members entered the stage and immediately showed their powerful dance moves. They never forgot to interact with the audience, however, some signs of tiredness did show. After all, four cities and four shows in only five days does sound like it left them with not a lot room for rest. Still, these signs were visible just momently and enthusiasm was painted on both the idols and fans faces who were either following the dance moves, jumping up and down or singing along. Finger hearts were shooting from both sides and wide smiles were present everywhere you looked. The set list included mainly strong catchy song like "Going Crazy", "White Night" but also softer melodic ballads "Because" that brought balance to the performance.
Its success came down to how intimate and interactive the event felt. From when Gyujin mistakenly said, "US Tour" instead of "Europe Tour" and the audience bursting into laughter to throwing paper aeroplanes and taking fans phones and snapping selfies and videos during the final performances, is something that left all the attendants exit the venue with a sense of wanting more.
More Photos : "Exclusive Photography from UP10TION Europe Tour in London

We hope to see you back soon!
To find more information about UP10TION you can follow their social media:
https://www.instagram.com/u10t_official
https://www.facebook.com/UP10TION
For more similar events in Europe follow BEYOND ENT
https://www.instagram.com/beyondentent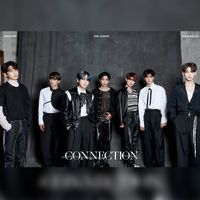 Became a fan of UP10TION
You can now view more their stories