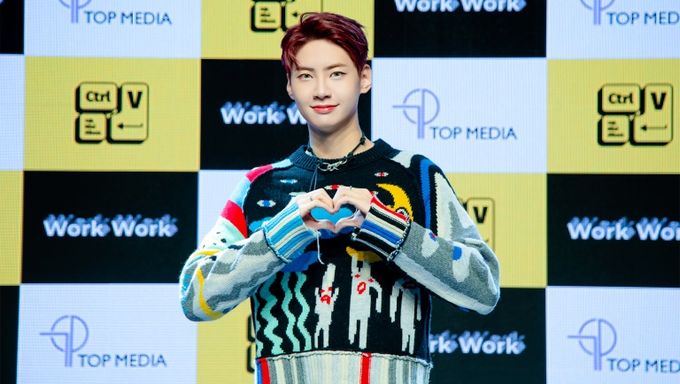 UP10TION's Lee JinHyuk came back with his 4th mini-album "Ctrl+V" and the title track 'Work Work' on Oct. 18. 
Lee JinHyuk released the teaser for his title track 'Work Work' on Oct. 15. The teaser shows a busy Lee JinHyuk trying to multi-task as he works as a celebrity.
"Ctrl+V" consists of 6 songs that Lee JinHyuk helped produce himself. The meaning of the album name "Ctrl+V" comes from Lee JinHyuk trying to paste another side of himself (his inner self) onto the existing side of him that we already know. The 'V' is especially meaningful because it stands for his fandom V-DAN. 
He said that as he produced the album he focused on trying to make an album that fans could sympathize with.
Track one is the title track 'Work Work' which is about a young workaholic who is asking his romantic interest to understand that he needs to focus on his work. It emphasizes the MZ generation's struggle to find a balance between their work and love life.
The second song is 'Bang all night' which is about escaping your boring daily life. The third track is 'Dunk!' which highlight's Lee JinHyuk's energy. The fourth song is 'BLUE MARVEL'. 
Track five is 'Coffee on Sunday' which has a funky guitar melody and retro drum beat. The final song is '의미없= Art (Meaningless Art)' which is a song about enjoying things without attaching too much meaning to them. The song shows that through empty spaces with no lyrics that highlight a lack of meaning.
We learned all of this at Lee JinHyuk's media showcase. Here is everything you need to know about it. 
After introducing his songs to us, Lee JinHyuk performed his title song. You can watch the full music video for it here.
Lee JinHyuk showed us the point choreography for 'Work Work' which is when he puts his hands in the shape of a dog's head. He shows those symbols whenever the words 'work work' come out in the song because it kind of sounds like a dog barking 'woof woof'. 
During the Q&A session, we got to know more about Lee JinHyuk's creative process and other activities.
When asked if there is a nickname he wants to gain as an artist, he said that he wants to keep his existing nickname of 'baby sun'. The reason being that he wants to shine brightly for V-DAN.
Along with his love for his fans, he thinks that the strength that makes him shine amidst other artists is his energy. He also wants to continuously learn from others and show improvement through each activity he completes. Even for this comeback, he says he received a lot of vocal coaching to show his fans improved vocals.
Kpopmap asked Lee JinHyuk:
On top of being a successful singer, you are also an actor. Is there an acting role that you want to take on as a challenge?
I want to try as many diverse roles as possible because I am still learning. It would be interesting to play a role that's very different from my actual personality, like an evil or sad role.
Lee JinHyuk
It is safe to say that we can expect a lot from Lee JinHyuk as an idol and an actor in the future.
What did you think of his new album "Ctrl+V?" Let us know in the comments.
What was your favorite song from "Ctrl+V"?
※You can vote multiple times without sign in.
의미 없= Art (Meaningless Art)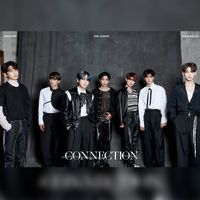 Became a fan of UP10TION
You can now view more their stories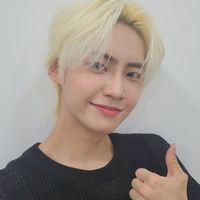 Became a fan of Lee JinHyuk
You can now view more their stories