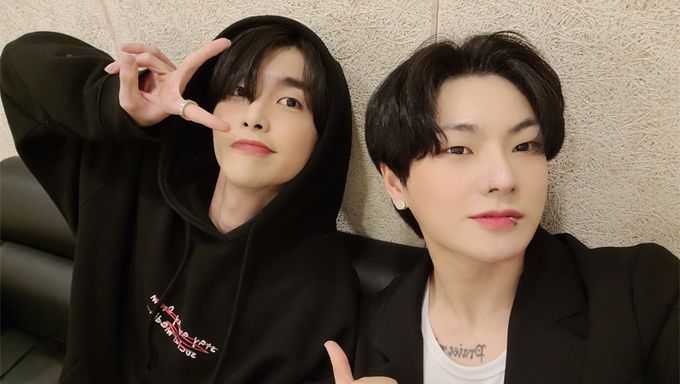 Did you know that UP10TION's Xiao and VICTON's HanSe are close with each other?
Previously, Kpopmap had written an article about the friendship between the two idols and on Apr. 28, they had come together for a joint V-Live session. If you did not manage to watch it live, you can watch the rerun below.
During the V-Live session, both of them shared with HONEY10 and ALICE how they had initially met in high school and ended up being close friends. Xiao also revealed that he got his ears pierced because of HanSe and fans were commenting on their adorable friendship.
It was then when the two of them decided to learn the choreography of each other songs! Xiao ended up learning the choreography for 'Howling' and HanSe learned 'White Night'.
Each of them were very passionate when it comes to perfecting the choreography and HanSe was surprised to see Xiao working so hard even though it is not his song. You can check out part of the V-Live which a fan had uploaded online.
https://twitter.com/Record_VV/status/1255144646994309131?s=20
At the same time, when it was HanSe's turn to learn the choreography, he was also doing his best causing Xiao to be surprised.
https://twitter.com/Record_VV/status/1255146496829255680?s=20
In the end, both of them succeeded in learning the choreography, allowing fans to acknowledge their friendship.
The two idols ended the V-Live on a happy note and both HONEY10 and ALICE could not wait for a next V-Live from the two of them in the future.
Did you also like their friendship?
Read More : 2 Moments When VICTON's SuBin Adorably 'Messes' Up V-Live With His Clumsiness