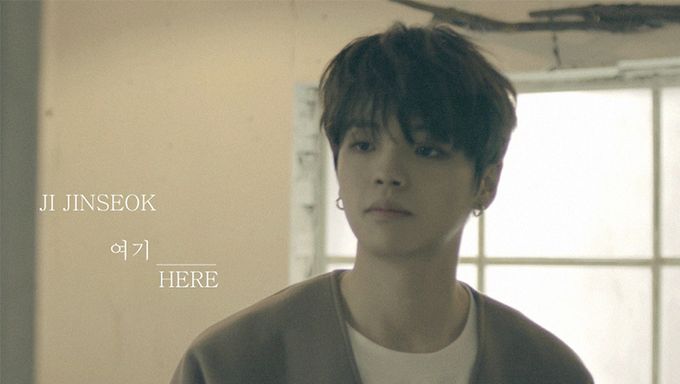 For any artist or singer, there's clearly a difference between singing well and using your voice as a personal and unique form of instrument.
Ji JinSeok is exactly the latter.
Born on August 18th, 1998, he is the first artist ever to be signed under Black Y Music and debuting on June 3rd, 2019, he has had a couple of notable releases including 'Good Night' and 'Pretend You're All Right'.To say that he's just a good singer who sings well would be a drastically unfair understatement. On the contrary, he is born with an instrument that is able to produce some of the most expressive and instantly recognizable vocals within the K-Pop scene.
Both songs, 'Good Night' and 'Pretend', showcase not just his innate ability and talent of sublime vocal delivery but also the art of story-telling that constantly grips the attention of listeners.
Despite his current status as a rookie, his vocals have often been compared to that of Crush's while competing on the survival program 'UNDER NINETEEN', a comparison that is usually reserved for singers who have been honing their craft for several years throughout their career.
With the K-Pop market constantly shifting its focus on diversity in recent times, Ji JinSeok is an artist who seems to be at the right place at the right time period. His presence and talents are a perfect fit when it comes to considering the necessity for influential solo artists in the current state of an oversaturated market full of idol groups.
Having earned the title of "the little prince of ballad", it's not hard to see why the revival of ballad in the K-Pop scene is not far off, and not just a seasonal trend in fall.
What made you decide to be a singer?
The first time I had the idea of becoming a singer was when I was in grade 6.

When I first brought that up to my parents, like many others, they strongly opposed it, so I left it there. But my dream of becoming a singer was always on the back of my head and after my middle school graduation, I sat down with my parents and asked again, but more in a serious manner.

Fortunately, they were convinced this time and from then, they started supporting me fully and I was able to go to a music academy the same year.
I had never been under the spotlight in my life but as soon as I started singing, people started noticing me and every single performance I had rewarded me with overflowing satisfaction!

From then on, singing became something that defines me. Even the thought of me without singing makes me feel extremely empty.
Who are some of your biggest influences?
I used to listen (and I still do) to a lot of Kim BumSoo sunbae's albums. He's one of the singers that I look up to the most. I also listened and practiced a lot to Park HyoShin, Naul and Crush sunbaes' music as well.
What are some obstacles that you personally find difficult as a musician?
During my participation in 'UNDER NINETEEN', I had to drop out of the competition due to a painful condition that developed in my jaw called, 'Temporomandibular Joint Internal Derangement'. I think that was the first time I faced the obstacle as a musician.

Until then, I was having the best time of my life as a musician and when that injury came along, it was both physically and mentally excruciating for me.
Was there any back story?
I'm not sure if this was on-air, but I was actually preparing for a stage with one of my favorite singers, 'Crush'. I admired him and looked up to him and this was such a big moment for me. But on the day of this dream collaboration, I had to tell the show staff and the participants that I cannot go up on the stage because of the excruciating pain.

All I felt was guilt towards every staff members who were involved in the show, the viewers, and my supporters.
How did you come to competing on 'UNDER NINETEEN'
Our CEO suggested me to participate in this program and at the time, I was eager to try anything!

When I was joining this show, my time as a trainee was very short and I didn't have much experience in K-pop dancing as well. I was part scared, part excited and it sure was challenging but mission after mission, with the moral support from my friends, family, and fans, I was able to enjoy every single minute while I was in the show!
what are some things you gained from it?
That'll be too long of a list but there's one unique experience I would like to share. When I joined "UNDER NINETEEN", it was actually my first time spending a long period of time with friends who are younger than me. I was one of the eldest participants in the show, so I naturally tried to act more maturely as a big brother.

I tried to take care of younger participants as much as I can by listening to their troubles and sharing my thoughts with them. We all became good friends and I still stay in touch with them!
What kinds of stories do you want to tell through your music?
As a singer, I think it is of utmost importance to have the ability to express and share what you want to say to the listeners through your music and I want to be a musician who is well capable of doing that.

When you are not focused on music, how do you like to spend your time?
There's a duo in our company named, "Woorizari" and we are very close. Often when we have free time, like many other Korean males in their 20s, we play games(League of Legends) together or play sports! Badminton is something that I am into recently.
What are your thoughts on the current state of the K-Pop market and the ballad scene in South Korea?
Thanks to the countless effort and times spent by the K-Pop sunbaes, K-Pop is now enjoyed and loved by almost everyone around the world. If it wasn't for them, I wouldn't have had those grateful supports by fans from other countries and for that, I am deeply thankful for our K-Pop sunbaes!

Currently, the majority of people who hears the word 'K-Pop', would associate with idol music. However, there are numerous Korean music genres that are also amazing including ballad, R&B, and more!

So, I hope there will come a day when global K-Pop fans would also enjoy listening to other K-Pop music genres as well!
What one word would you use to describe yourself and your music?
It may not be applicable at the moment but I want to be consistent so I would go with, 'DRAGON'!(lol).
The reason is that I want to build a strong, STRONG presence in the world as an artist!
What's on your playlist right now?
Since I'm a big fan of Crush, he's always on my list! I also enjoy listening to Justin Bieber, and recently got into Max Schneider's music as well!
Would you like to say anything before we wrap up our interview?
I would like to thank all those who have supported me with my music including my fans, family, and friends. With their overwhelming love and support, my new album "Half/Half" will be released this April and I hope that my music can give positive energy to everyone going through these dark times!
Best of luck to Ji JinSeok! Check out his new release, "Just" MV and share us your thoughts!