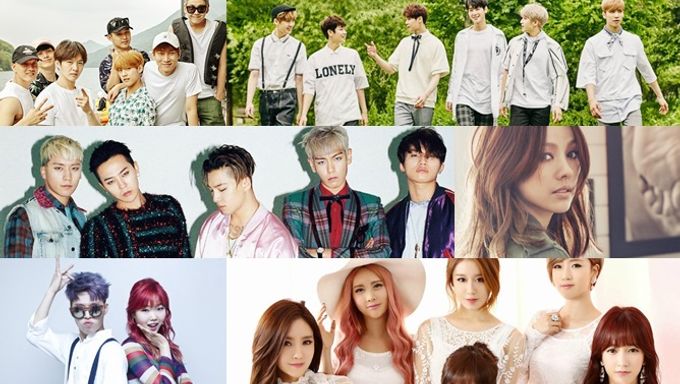 It's time to welcome November, and along with it a whole line of impressive K-Pop comebacks and debuts!
With Fall in full blast, it's time to put away our bright bubbly songs for a more mellow vibe. To fill our needs, the K-Pop artists of all size, shape and genre are coming back with brand new music. From debut stages of some of the freshest bands to the return of the 1st generation K-Pop artists, November seems to be a fun packed month in the industry!
Must Read : Photo )) Astro Made First Appearance In Japanese "1st SEASON SHOWCASE"
As a side note, groups have been known to change their release dates at the last minute, and some of those listed below have yet to be confirmed.
NOVEMBER 2016 COMEBACK & DEBUT LINEUP
(Updated on November 21, 2016)
** Lineup will continually be updated daily! **.
 BLACK PINK (YG Entertainment)
November 1st
 TaeYeon (SMEntertainment)
November 1st
Berry Good (JTG Entertainment)
November 1st
SEVENTEEN Hip Hop Group (Pledis Entertainment)
November 1st 
Hello Venus (Fantagio Entertainment)
November 1st
Wax (Starline Entertainment)
November 1st
Jeon JiYoon (Jenyer) (JS E&M Entertainment)
November 2nd
MC Mong (Dream T Entertainment)
November 2nd
 The East Light (Media Line Entertainment)
November 3 Debut
 KangTa (SM Entertainment)
November 3rd
 B.A.P (TS Entertainment)
November 7th
 MAMAMOO (RBW Entertainment)
November 7th
 BtoB (Cube Entertainment)
November 7th
TOPP DOGG (Hunus Entertainment)
November 7th
 HyoLyn (Starship Entertainment)
November 8
Pre-Releases on October 26 & November 1
Eyedi (Base Camp Studio Entertainment)
November 8th
T-ARA (MBK Entertainment)
November 9th
VICTON aka Plan A Boys (Plan A Entertainment)
November 9th
ASTRO (Fantagio Entertainment)
November 10th
Momoland (Mnet)
November 10th
IMFACT (Star Empire Company)
November 11th
SNUPER (Widmay Entertainment)
November 15th
KNK (YNB Company)
November 17th
Voisper (Evermore Music Entertainment)
November 18th
UP10TION (TOP Media Entertainment)
November 21st
B1A4 (WM Entertainment)
November 28th
ZICO x CRUSH (Seven Seasons Entertainment)
November 28th
Shinhwa (ShinHwa Company)
Pre-Release Track: October 22nd
Part 1 Release: November 29th
LABOUM (NH Media Entertainment)
Undecided
SeeArt (Yama&Hotchicks Entertainment)
Undecided Debut
SEVENTEEN (Pledis Entertainment)
End of November ~ End of this Year
 UP10TION (TOP Media Entertainment)
Undecided
Lim JeongHee (Oscar Entertainment)
Undecided
AKMU (YG Entertainment)
Undecided
HIGH4 (N.A.P Entertainment)
Undecided
Seches Kies (YG Entertainment)
Undecided
S.E.S (SM Entertainment)
Rumored
Lee HyoRi (B2M Entertainment)
Rumored
BIG BANG (YG Entertainment)
Rumored
Suzy (JYP Entertainment)
End of this year ~ Early next year
PSY (YG Entertainment)
Rumored