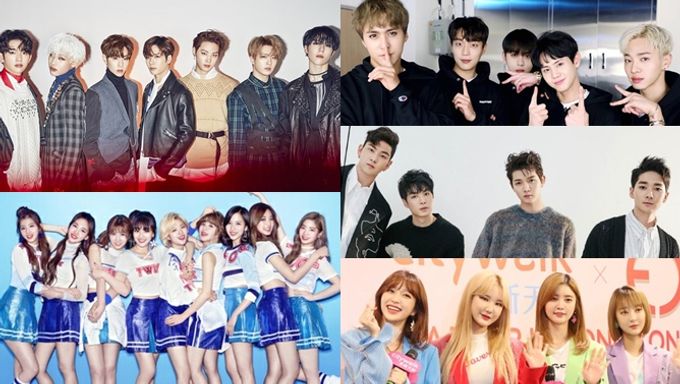 You should check out which groups and artists will comeback in this peaceful October, 2017!
October is the perfect month for listeners to pick songs and playlist which fit in mood perfectly. The light breezes, warm sunlight are enough to make us happy. However, the music can't be forgotten. You must play a song in those perfect weather. Didn't you select a good song to play in upcoming autumn? Here's happy news for you.
JYP's queen and king, TWICE and GOT7 are pulling the trigger to comeback in October. Fans who have been waiting for their new songs must be excited. Also, there are lots of artists who will hit your spot in October. NU'EST, BTOB, Highlight are preparing for it. 
Must Read : Upcoming Debut & Just Debuted Lineup For Second Half of 2017
You want some more & specific information? Find them below here!
Kim KyuJong (CI ENT)
October 2nd
GOT7 (JYP Entertainment)
October 10th
NU'EST W (Pledis Entertainment)
October 10th
TRCNG (TS Entertainment)
October 10th
DAVICHI (CJ E&M)
October 11st 
HashTag (Luck Factory ENT)
October 11st
DIA (MBK Entertainment)
October 12th
Rainz (KISS Entertainment)
October 12th
SF9 (FNC Entertainment)
October 12th
YeEun (HA:TFELT) (Amoeba Culture)
October 12th
TaeMin (SM Entertainment)
October 12th
NCT DoYoung & Gugudan SeJeong (SM Ent/Jelly Fish Ent)
October 13rd
Highlight (Around US Entertainment)
October 16th
BTOB (CUBE Entertainment)
October 16th
Mamamoo Solar (RBW)
October 17th
JBJ (FAVE Entertainment)
October 18th
A.C.E (Beat Interactive)
October 18th
Super Junior (SM Entertainment)
October 20th
WheeSung (Realslow Company)
October 23rd
IN2IT (CJ E&M)
October 26th
O My Jewel (Acoustic Company)
October 27th
NRG (Various Entertainments)
October 28th
Lee SeungHwan (Dream Factory)
TBA
A.De (2able Company)
TBA
Lim ChangJung (NH EMG)
TBA
TWICE (JYP Entertainment)
TBA