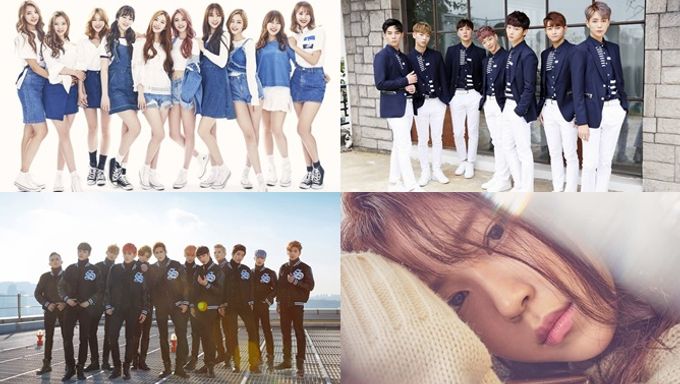 It's only the first month of 2017, and we're already overwhelmed with the overflowing amount of new K-Pop groups and idols who are debuting within the year!
2016 brought us some of the most iconic rookie stars, such as ASTRO, I.O.I, BLACKPINK, PENTAGON and so much more! It appears that 2017 has no intention of backing down, because over 15 new K-Pop groups and idols are already getting ready to debut in the upcoming year - that's not counting those who have yet to reveal themselves!
Must Read : Upcoming Rookie K-Pop Groups and Idols Debuting in Second Half-Year of 2017 (Updated)
Take a look at which new rookie groups and solo idols that you'll have to be rooting for this year!
1. BONUSbaby
BONUSbaby was the first rookie group to debut in the year 2017. The 6 member group debuted on January 1st with their debut single, "Us". They're most known for their previous myB members, and their nickname as the baby sisters of Kim JongKook and Ha SeokJin.
Must Read : BONUSbaby Profile: Maroo Girl Group with Former myB Members
2. VARSITY
VARSITY was the first boy group to debut in 2017. They released their debut album, "ROUND ONE" on January 3rd. They are a 12 member group that debuted under a partnership between Global K Center and a Chinese entertainment company. VARSITY has 7 Korean members and 5 Chinese members.
Must Read : VARSITY Profile: New 12 Member Boy Group from Global K Center
3. INA
The first soloist to debut in 2017 was INA. INA was best known as a cameo appearance on famous dramas, and a regular comedian feature on KBS's "Gag Concert". The soloist has now turned her head towards the K-Pop industry as she debuted with "Rainbow" on January 3rd!
Must Read : INA Profile: From Cameo and Comedian to Beautiful Solo Debut
4. Top Secret
Top Secret was originally known as 7Stones during their pre-debut era. The boys have officially debuted on January 4th as Top Secret and their debut mini-album, "Time's Up". The group was formed by JSL Company and consisted of 7 handsome members.
Must Read : TopSecret Profile: The 7Stone Boys to Finally Debut
5. I
I is best known as the doppelganger sister to B1A4's Baro. Following her famous older brother's footsteps, Cha YoonJi will be making her long awaited debut on January 11th with WM Entertainment. I was almost cast as a member of Oh My Girl, but she and the company both agreed that she fit better as a soloist.
Must Read : I Profile: Baro's Sister Cha YoonJi Makes Solo Debut
6. DREAMCATCHER
DREAMCATCHER is a reboot of Happy Face Entertainment's previous girl group, MINX. The girls of MINX, along with 2 new member will re-debut as DREAMCATCHER on January 13th.
Must Read : DREAMCATCHER Profile: Happy Face's MINX Re-Boot With New Members
7. Kang SiRa
Kang SiRa is the 3rd female soloist to debut just in the month of January! SiRa is best known for her appearance on Mnet's "Produce 101", where she finished as the top 22. With her crystal clear vocal skills, she will be standing on stage by herself on January 19th!
Must Read : Kang SiRa Profile: Produce 101's 22nd Place Contestant to Debut
8. SeeArt
SeeArt has been teasing about their debut ever since the end of 2016. The group is famous for being the first girl group to be produced by Bae YoonJung - a legendary choreographer. The 8 member group has already held their pre-debut showcase, as well as filmed various editions of their profile pictures. All we have to wait for is the group's actual debut date!
Must Read : SeeArt Profile: Yama&Hotchicks' K-Pop Girl Group Debuting in 2017
9. Pristin
Pristin is best known for their pre-debut name, Pledis Girls. The girls are rumored to be the treasured younger sisters to some of the big K-Pop stars, such as After School, NU'EST and SEVENTEEN. Pristin is also the official debut group for I.O.I's NaYoung and Jieqiong. Although their set debut date has yet to be revealed, Pledis Entertainment officially announced that the girls will be making their final preparations for their 2017 debut!
Must Read : Pristin Profile: From Produce 101 to Plediz Girls
10. MYTEEN
Song YuVin from Superstar K6 will finally be making his boy group debut this year! MYTEEN was formed under Music Works, and will consist of 6 members. They have already gained a decent following thanks to Song YuVin's solo debut and the group's pre-debut activities. Their exact debut date is still unknown.
Must Read : MYTEEN Profile: Song YuVin's Boy Group from Music Works
11. LIPBUBBLE
LIPBUBBLE may be unknown to many for now, but the girls are preparing to make a popping debut sometime this year! The group is formed under Zenith Media Contents, and the girls have been teasing their debut since late 2016. The 7 member group has already been active through small pre-debut stages.
Must Read : LIPBUBBLE Profile: New 7 Member K-Pop Girl Group to Debut in 2017
12. Fantagio Girls
Fantagio Entertainment - home to Seo KangJun, Hello Venus and ASTRO - is preparing for the grand debut of the Fantagio Girls. The group is rumored to be still a work in progress, but the company promised to debut I.O.I's DoYeon and YooJung through the group within the year!
Must Read : Fantagio Girls (i-Teen) Profile: 2017 Group with I.O.I's DoYeon & YooJung
13. OlMang JolMang
OlMang JolMang is the latest K-Pop girl group in the works by Star Empire Entertainment. The label boasts big names, such as Z:EA, Jewelry, IMFACT and more. Produce 101's Han HyeRi had signed an exclusive contract with the label, and plans on debuting this year with the group, OlMang JolMang!
14. P.O.P
P.O.P (pronounced pee-oh-pee) are the latest girl group to debut from RBW Entertainment. P.O.P will be the younger generation of MAMAMOO with their talented vocals and lovable personalities. P.O.P is still a work in progress, but the company announced its plans to debut the girls within the year.
Must Read : P.O.P Profile: MAMAMOO's Younger Sisters of RBW to Debut
15. WM Boys
WM Boys is a work in progress under WM Entertainment. Rumor has it that the label is preparing to debut their latest boy band since B1A4. Since I will be debuting in January, we expect news of the WM Boys will begin circulating sometime mid-late 2017!
Must Read : Upcoming Rookie K-Pop Boy Groups and Idols Debuting in 2018