VIXX recently released their fourth album, "Shangri-La" and their concept for the album shows antique eastern beauty.
The fact that their concept is highly related to the eastern culture while the music is R&B, which is the western culture, the album seemed to be making a great fusion of the two cultures.
U.S Billboard has commented, "East Meets West in VIXX's New Song Shngri-La." The reason why billboard is putting such a big emphasis on their album is not only because of their concept, but their music which includes the sound of Gayageum, a Korean harp. The melody truly demonstrates the well mixture of the west and east.
VIXX's music video of new title track was quick to reach almost 200million views, and is still spreading fast to K-Pop fans.
Their comeback stage will be on May 18th, on M Count Down on Mnet, and their exhibition will start from May 24th to June 4th.
Must Read : MV )) VIXX – Shangri-La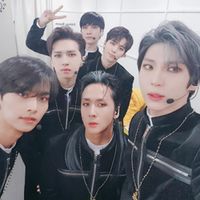 Became a fan of VIXX
You can now view more their stories