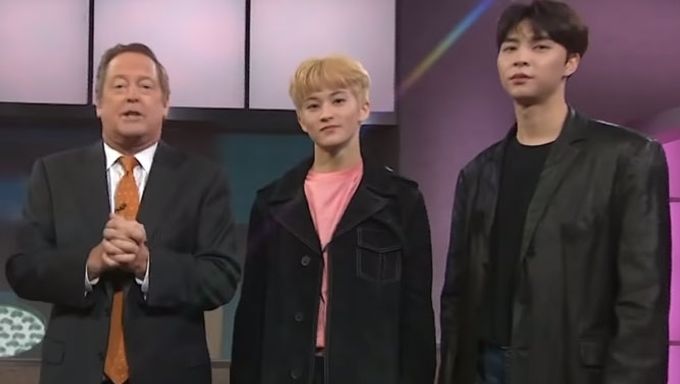 NCT 127 was invited on "KTLA 5 Morning News" on May 15. They concluded their concerts in the states for "NEO CITY: USA — The Origin".
NCT and other K-Pop groups fans will know that their artist sometimes is wrongly covered by media overseas. It could be from a simple mistake, ignorant comments to sometimes racism.
Back in October 2018, on the show "Good Day LA" (Fox), Mark was the victim of a more-than-questionable comment about his English skills being "awesome" when he is a native speaker and aware he is Canadian. Back then NCTzen criticized the host for an "unprofessional" attitude and "racist" comments.
Fans hoped that this kind of comment would stop. However, on May 15, the host of "KTLA 5 Morning News" made the same questionable comments to Johnny, without apparently knowing that he was born in the U.S.. For those of you who might not know, Johnny was born in Chicago and was raised in the states.
The host said "By the way, your English is phenomenal" to which Johnny whispered not in the mic "Well... yeah I'm from Chicago". To which Mark clapped in his hands and both smiled at the camera.
A fan has the video of Johnny's reaction, check it below.
the interviewer said johnny's english was "phenomenal" as if he isn't a wholeass american johnny even said "i'm from chicago" right after that pic.twitter.com/blBGKHn5xK

— johnny doing things²⁹ (@johnactivities) May 15, 2019
The host of the show, Sam Rubin, explained and apologized on his Facebook: "[...]Based on the information provided by the Band's own management team, I was led to believe they did not speak English very well. This was my error not to do additional research and I am sorry and apologize if any fans were offended. [...]Thanks again for watching and deepest and most sincere apology for anyone who took any offense". You can read his whole message to NCT fans below. 
Fans in the comment section thanked him for his apology.
NCT 127 still seemed to have a great time on the show, you can re-watch them teaching dance moves to the host.
Read More : Fans' Hearts Hurt As NCT's Mark Says "Sorry We Are Not BTS" In The U.S.