JELLYFISH Entertainment officially announced the feedback about all the rumors and controversies on VIXX Leo having private relationship with fan.
Should there be somewhere idols and their fans aren't allowed to be closer any more? How far will it be? 
A few days ago, several photos including VIXX's Leo and a woman were released on the Internet. What's different from just another photos here is, in the pictures, Leo is consoling his arms around the woman's shoulders and looking into her eyes so closely. In addition, Leo's fans claimed that the woman is the homepage master, who owns and operates the fans' homepage. What upsets fans is Leo is having special, private relationship with a fan who originally shouldn't be treated differently from just another fans of Leo.  
After the pictures are released, some netizens told that this is the obvious discrimination on fans of Leo. Here are those problematic photos.
Too many stories and guesses were made on these photos, and eventually, JELLYFISH Entertainment, where VIXX belongs to, announce their official feedback. They admitted that woman was a fan of Leo and Leo already was aware of her having wrong behaviors and being eliminated from official fan club. Besides, they announced that it is not true that two of them made a meeting intentionally. According to their explanation, the woman without any permission to enter the supporting program for musical "Mata Hari", where Leo play a role just appeared all of sudden. Thus, Leo had difficulty restraining her entrance there and made her get out there by making those physical affections. 
Even though the official feedback was given, fans' tempers seem not to cool down. The main reason mostly mentioned among fans is "how could the idol privately make those physical affection with fans?" and "Finally, the management company admitted there was a private relationship without meaning to be". Fans are talking about TMI (Too Much Information) on the feedback from JELLYFISH Entertainment. There's no need to be so detailed, and fans get disappointed by acknowledged facts from the company. 
Must Read : List Of K-Pop Idols' Reaction Toward Sasaeng Fans: EXO, GOT7, Wanna One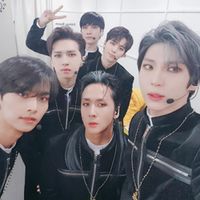 Became a fan of VIXX
You can now view more their stories