Looks like nothing can beat Wanna One when it comes to wit and humor!
On April 23rd when Wanna One went on V-Live "Idol Corner", they were asked by the MCs on how they saved each other's names on their phone.
Their answers gave laughter to both the MCs as well as all the members.
Ha SungWoon revealed that he saved the members' names normally but sometimes he may add a number behind their name. The reason is because of the number of times the member has changed his phone number. For example if fellow member Park JiHoon had changed his phone number twice, his name would be saved as 'Park JiHoon2'.
As for Park JiHoon, he saved Kang Daniel as 'Muscle Hyung' and Bae JinYoung as 'Small Head'. Moving on to Kang Daniel, he saved Ong SeongWoo as 'Wanna One Ongongong SeongWoo Hyung', Kim JaeHwan as 'King Jaehwan', Lai KuanLin as 'Linlini' and Lee DaeHwi as 'Lee DaeRi (DaeRi means manager in Korean)'.
Lee DaeHwi said that he saved Park WooJin as 'Together With WooJin'. Ong SeongWoo revealed that he saved their members normally as 'Wanna One Kang Daniel, Wanna One Park JiHoon...'.
For Lai KuanLin, he mentioned the special name he saved in his phone was 'Ongongongongongong SeongWoo Hyung'.
As for Hwang MinHyun, he revealed that he originally saved the members' name like how Ong SeongWoo did but one day JinYoung told him that it looks too realistic. He took MinHyun's phone and changed his name to 'My JinYoung (heart)'. His actions caused him to be shy and confessed that it was just because he likes MinHyun.
Moving on to Kim JaeHwan, he said that he usually stores the members' name interestingly but if he had to pick, he chose the name he saved for Yoon JiSung. He saved his name as 'JiSung-ie KamCheon-ie'. In Korean, it is a proverb which means sincerity would move the heaven.
Compared to other members, Park WooJin saves their names in a cute manner as he did not like simple names. He saves Ong SeongWoo as 'Ong-ie Hyung', Hwang MinHyun as 'MinHyo-ni Hyung', and Kim JaeHwan as 'JaeHwa-ni Hyung'. Most interestingly, he saved Park JiHoon as 'My love Hoon-ie' which caused all the members and MCs to react to it.
Bae JinYoung saves the members' names in their full name.
Last but not least, Yoon JiSung saved the name of Ha SungWoon to be 'Ha GuReuMi', Bae JinYoung as 'Bae Bae' and Kang Daniel as 'Daniel (baby monkey emoticon)'. He explained that he first met Daniel when he was 20 and at that time, he looked like a small boy in his eyes. Not only that, he also said that he saved pictures of each members together with their number.
However, the rest of the members immediately denied and said that he uses ugly pictures of them which caused them to laugh again.
Through the live sessions, fans were able to see how close they are with each other!
Read More : Wanna One's Hwang MinHyun And Lee DaeHwi Share Their Food Preference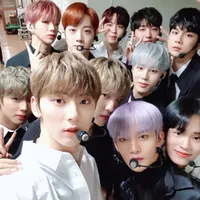 Became a fan of Wanna One
You can now view more their stories