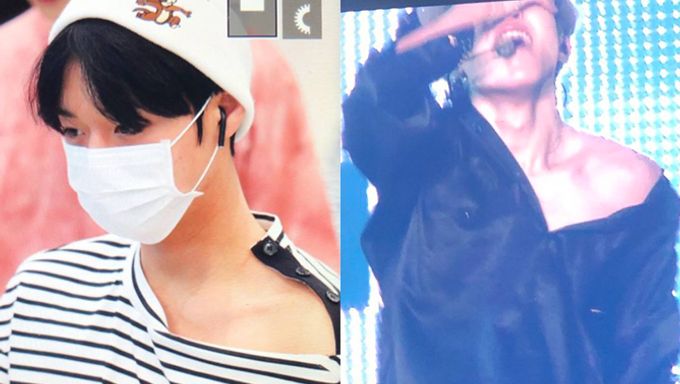 On September 9th, Wanna One's Park JiHoon entered South Korea after completing his schedule overseas with the rest of the Wanna One members.
That morning, fans were surprised and stunned by his fashion because of the fact that the left side of his shoulder is revealed in a rather sexy manner!
Fans were able to see his collar bone clearly but with the fact that he also had a white beanie and mask on, he also looked adorable at the same time.
Park JiHoon is known by many for his cute and youthful image and was dubbed as the 'wink boy' ever since Mnet "Produce 101" Season 2.
Although fans were not sure if he had done it on purpose, they believe that it has to be one of Park JiHoon's unique fashion sense.
On another occasion, BTS's JiMin was also seen to have revealed his shoulder 'accidentally' during their recent show for "LOVE YOURSELF" tour in LA.
According to fans, BTS was performing to 'FAKE LOVE' when JiMin's shirt 'accidentally' slipped and exposed his shoulder and collar bone. Many fans who had attended the concert were shocked by the incident.
It was known by many fans that JiMin is the member who always 'accidentally' reveals his shoulders and believe that it may or may not be an accident. Despite that being said, many fans are loving how he is.
With these two idols from the hottest groups in the industry, many of their fans could not help but think about the coincidence of them revealing their shoulders almost at the same period of time.
Read More : Who Wore It Better BTS's Suga Or Wanna One's Kang Daniel?