So we all know that Snapchat's baby filter is currently one of the hottest things in K-Pop, as several idols have tested it out to see what they would look like if they were to turn instantly into a toddler right now.
Imagine if BTS were just seven middle schoolers instead of the young men that they are today. Speaking in voices that clearly haven't gone through puberty during interviews and oh Lord, at the UN event!
If you can picture it in your head, then try comparing it to the video below. JoseOchoaTV recently uploaded a BTS interview in the past and added the baby filter on the members' faces.
And the results will have you squealing as the boys just impossibly adorable.
Read More : Top 8 Most Adorable K-Pop Idols Seen Through Snapchat's Baby Filter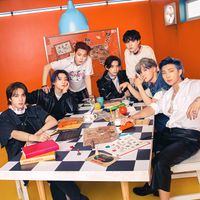 Became a fan of BTS
You can now view more their stories