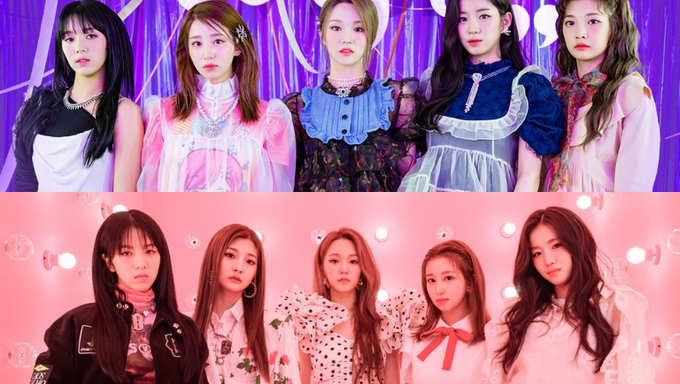 Teen crush K-Pop girl group woo!ah! are back with their 3rd single album "WISH" which was released on May 27. Members NaNa, SoRa, Lucy, MinSeo, and WooYeon stun us with their vocals, leading with their title track 'Purple.'
The members have mentioned that their goal for this comeback is to enter the charts. They're making a good start with 'Purple' which has received more than 1,400 likes on Melon only one day after its release and more than 300,000 combined views (from their official channel and 1theK's channel) on YouTube.
Concept
The first concept spoiler video featured a montage of out-of-context shots - some purple, and some showing red and blue elements. The red is said to symbolize the hot passion that woo!ah! has, whilst the blue is said to symbolize the cold hearts of the public who have yet to become fans.
The title track 'Purple' is about the chemistry between two people who are interested in each other but have vastly different personalities, symbolic of polar opposite prime colors red and blue. The highlight of the lyrics is, "Let's make purple," which insinuates that regardless of their differences, these people should mix. It could be representative of personal relationships, but also a call from woo!ah! to the public, asking them to become their fans.
They use a space theme to represent their own fantasy world. One of the members crosses a threshold into the world of "WISH." It is a world of imagination. There are purple galaxy visuals, castles, unicorns, and even giant purple bunnies. These all portray the magic that is sure to follow with woo!ah!'s rising success.
The "WISH" album will come in two versions that reflect their concept. The first is the 'hope' version, which is blue, and the second is the red 'happy' version. It could be to emphasize the meaning behind the colors, as mentioned before, or simply for existing fans to buy the album that they feel like they need - be it hope or happiness.
In an interview about their comeback, the girls mentioned that it is specifically aimed at millennial and Gen Z audiences, so they focused a lot on teen spirit and youthfulness. They emphasized that they wanted to give the people in their teens and 20s hope and to make them feel happiness and strength through their music. Their promotion goal was to do so whilst showing woo!ah!'s confidence as a group.
This is typical of their group's teen crush concept. Read more about what that concept entails here.
Fashion
Leader NaNa has bangs for the first time in this comeback. They are only temporary, as she admitted that they were a clip-on piece for this particular comeback, but her members were gushing about how doll-like the new hairstyle makes her look.
Some fans on YouTube have also mentioned that it would've been cool for at least one of the members to have purple hair, but WooYeon actually has dyed her hair purple. The members have mentioned that it isn't very visible on camera but in the sun it looks like a crayon purple color.
Dance
Below is the key point of their choreography that they do throughout the song. NaNa revealed that there is a special secret behind the shape of their hands for this move. If you look closely, they make a 'P' shape with their hands when they do the pounding movement. She explained that it actually represents the 'P' in 'Purple.'
woo!ah! clearly went all out to deliver a detailed performance.
Members also reveal that the, "I see you," lyrics accompanied one of their personal favorite dance moves which are these flirty finger guns.
Songs
The album is heavily focused on the fusion of dance and hip-hop and aims to be fun and vibrant sounding. All three songs have a similar vibe, which would make it the perfect album to listen to when you're feeling carefree in the summer.
The first and third songs on the album are 'Scaredy Cat (겁쟁이)' and 'Pandora' which were produced by new producing teams. Whereas, title track 'Purple' was produced by the same team that produced 'Round&Round' and 'BAD GIRL' on their previous album "QURIOUS."
Episodes, Fun Talks
The members enjoyed sharing stories and details about their recent comeback in a Vlive, which you can watch here. They spoke about their favorite dance moves, hairstyles, etc., and asked fans what they thought of the comeback.
Some interesting tidbits about the production process were revealed, such as an incident when they were filming their introduction for their "M!Countdown" stage. The members held hands and looked up at overhead cameras, in formation, but NaNa mistook one camera for another, because she didn't expect the camera to be so high up, and had to be asked by the film crew to look at the camera. She seemed flustered by the memory but laughed it off with Lucy, who was admiring how cute NaNa is. Luckily the shot came out well and the members beautifully introduced their performance.
The introduction reads, "Our world is becoming purple," which tells us that woo!ah!'s passion is paying off and they plan to become stronger hand-in-hand with their fans.
What did you think of this comeback? We're excited to see woo!ah! show us more of their colors and gain the success that they deserve!
What is your favorite song in "WISH"?
※You can vote multiple times without sign in.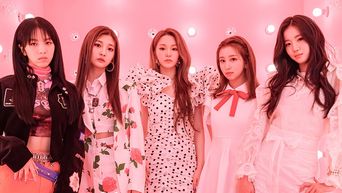 Became a fan of woo!ah!
You can now view more their stories