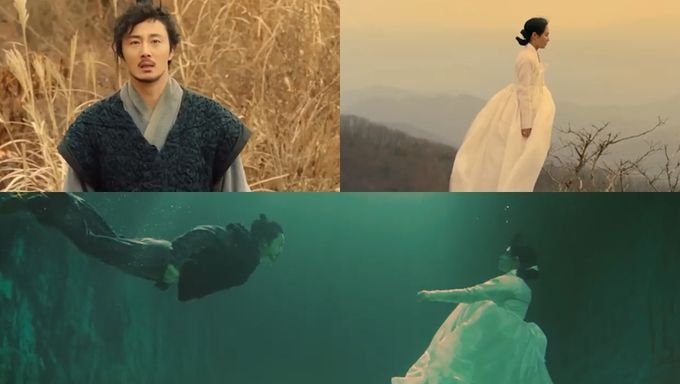 Welcome back to Kpopmap weekly series (after a short break)!
In this Thursday series, we are choosing THE most romantic scene of the week. It is an editor pick series (or a weekly dilemma to choose only one).
The selection is done from dramas airing from Wednesdays to the following Tuesdays (currently watching: "The Sweet Blood", "Taxi Driver", "Doom At Your Service", "Youth Of May", "Sell Your Haunted House", "Imitation", "Bossam: Steal the Fate").
Be aware of MAJOR spoilers
Warning: discussion of suicide.
This week (May 5-11) our pick goes to Jung IlWoo jumping from the cliff to save Girls' Generation's (Kwon) YuRi who wanted to end her life in "Bossam: Steal the Fate".
To sum up, Jung IlWoo acting as Ba Woo kidnapped by mistake YuRi who is a princess and a widow. Things got complex because her in-laws decided to announce her death instead of announcing that she was missing. Enabled to return home, she also failed to find support in the royal palace (her family). Cherry on top of the cake, there are now assassins looking for her hired by both her in-laws and family.
YuRi was told that she had better end her life and had nowhere to go. When Jung IlWoo and his adorable son Ko DongHa (acting as Cha Dol) decided to separate ways with her, she took the dramatic decision to end her life by jumping off the cliff.
Ko DongHa dragged by his father did not want to leave her. He did not want to let his "mom" alone and knew that her life will be endangered. The kid made a huge fuss to get his father to go back to YuRi. In the end, Jung IlWoo realizing what he had done went to look for YuRi.
He arrived too late at the cliff. He broke down when he noticed that she had jumped off. After all, this cold and rough man started to appreciate her and he is at the origin of her despair.
Jung IlWoo took the risky choice to jump to save her life.
Underwater YuRi refused to be saved, but Jung IlWoo got her out of the water safely.
Even if Jung IlWoo refused to admit it, he is ready to make a lot of sacrifices for the princess.
See you next Thursday!
Don't forget to share your favorite romantic scene of the week in the comments!