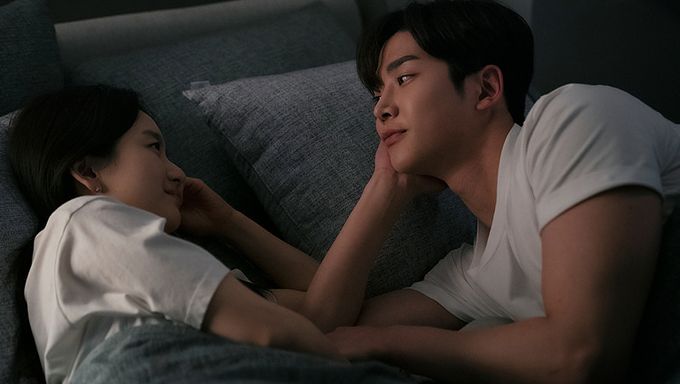 Welcome back to Kpopmap weekly series!
In this Thursday series, we are choosing THE most romantic scene of the week (and not several like before). It is an editor pick series (or a weekly dilemma to choose only one).
The selection is done from dramas airing from Wednesdays to the following Tuesdays (currently watching: "She Would Never Know", "River Where The Moon Rises", "Hello, Me!", "Sisyphus: The Myth", "Vincenzo", "Not Yet Thirty", "Be My Boyfriend").
Be aware of MAJOR spoilers.
This week (Feb. 24 - 2) our pick goes to SF9's RoWoon and Won JinAh sharing a soft and cute moment in "She Would Never Know".
The sum-up, in the drama, RoWoon (as HyunSeung) and his company sunbae Won JinAh (as SongAh) are dating but she got the offer to work in Europe for 5 years. After hesitating, she decided that she wanted to go.
In this cute scene, RoWoon and Won JinAh were spending time together before she left the country.
RoWoon told her that they better not think of it as five long years. He continued explaining that he will take leaves and visit her often so that it won't feel too long.
Won JinAh also mentioned that times pass by very quickly and said: "Let's not be anxious".
To which he answered: "Don't feel sorry" before kissing her hand and softly hugging her while she patted his hair.
Here is last week's pick.
See you next Thursday!
Don't forget to share your favorite romantic scene of the week in the comments!