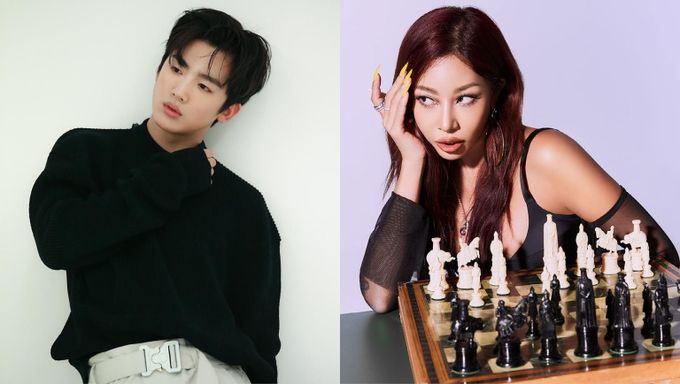 The K-Pop industry is full of some of the brightest and strongest friendships forged through struggle and hardship during trainee days in some cases and others based on the year of birth, similarities and so on and so forth. Some of the most popular squads in K-Pop include the "Parka" Squad, the '97 liners, the '91 liners and more. However, one of the most unlikely yet adorable friendships in recent years, has to be that of the fierce and intense Jessi and the gentle and loveable Kim YoHan of WEi. The two met for the first time at KBS2's "War of Music People" and they have been tight ever since. Needless to say, their dynamic is unique and the very definition of opposites attract and we can't get enough of these two!
With that said, here are 5 of the most adorable moments between Jessi and Kim YoHan that we just can't get out of our heads.
1. Every time Jessi and YoHan do a challenge
Owing to their lovely friendship, it has become a norm between the two that they'll be doing each other's musical challenges. YoHan has done the 'What Type of X' challenge and 'NUNU NANA' challenge with Jessi whereas Jessi obliged by returning the favour with the 'No More' challenge. It is always adorable to see them customise the choreography and one key highlight of that is, YoHan always makes sure to incorporate a kick in there somehow.
2. When YoHan confessed to being scared of Jessi
YoHan has shared on multiple occasions that he is rather flustered by and scared of Jessi. Her intense and straightforward personality is quite rare in the Korean entertainment industry so when YoHan first met Jessi, he was taken aback by her strong energy. He confessed to being scared of her but also added that they have gotten very close lately.
3. YoHan imitating Jessi
On an episode of "Radio Star" where Kim YoHan appeared as a guest, he spoke about his relationship with Jessi and how they became so close. While speaking of the same, he recreated the scene where Jessi reprimanded him for acting innocent by saying, "Kim YoHan! Don't act like a baby!" Even though he intended it to be as fierce as Jessi, he still looked like a cute puppy while imitating her.
4. 'Life Is Good' (2020)
Who can forget the iconic collaboration between Song GaIn, Kim YoHan and Jessi, also known as JeGaYo, for 'Life Is Good'? The song perfectly highlights the chemistry between all the three artists and their incredible talents. The music video is a real treat to watch and we definitely need a JeGaYo comeback soon!
5. YoHan teasing his "nuna"
Even though Kim YoHan says he's scared of Jessi, he doesn't shy away from teasing her from time to time. Jessi too, can be seen quite flustered around him, which only adds to their adorable dynamic and chaotic sibling energy. While rehearsing for YoHan's 'No More' challenge, YoHan couldn't stop teasing Jessi about how she's doing it versus how she's supposed to be doing it. In addition, he kept playing around by saying that he was expecting her to curse and Jessi couldn't help but get shy.
What is your favourite Jessi X YoHan moment? Share your thoughts with Kpopmap in the comments section down below!