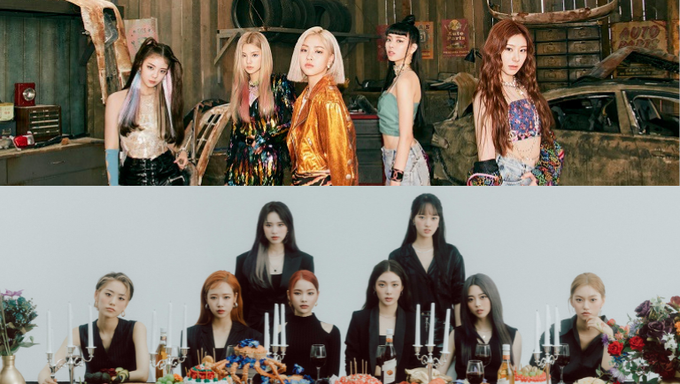 It seems that recently a lot of young K-Pop girl groups are making similar concept and style choices for their debuts and comebacks. The 'teen crush' concept is the new wave among 4th generation K-Pop girl groups. A lot of companies have opted for hip and edgy concepts, but are still maintaining a bright and youthful image. In the past it seemed like groups had to choose between one look or the other, but where did this combination come from?
Girl crush: the origins of the teen crush concept 
Many K-Pop fans are familiar with the popular 'girl crush' girl group concept. We've seen several groups do it over the years, such as 2nd generation group 2NE1 who embraced female empowerment in their concepts and images. K-Pop girl group 4Minute also focused on creating the idea of an alpha-girl to promote becoming strong women in society. This was unlike groups like Girls' Generation that were trying to target a largely male audience through bright bubblegum concepts. 
Throughout the 3rd generation of K-Pop, 'girl crush' also became about promoting/embracing the bad girl image. This is why the iconic girl crush style consists of fishnet stockings, tomboyish looks, Doc Martens, and overall dark color schemes. BLACKPINK is one of the best-known girl crush groups for this concept.
So, what is the 'teen crush' concept?
Knowing what they knew about girl crush concepts, the teen crush concept was born. Record labels wanted to secure the attention of young teenage girls (who mostly supported boy groups) as a fan base. Although the feminist undertones of girl crush made it popular amongst women, teen crush focuses more on relatability by adding back some of the brightness to the dark concepts. Teen crush girl groups are not overly sweet, but still, have a nice side while embracing young rebellion. Their target audience is teenagers and their lyrics are about issues relevant to them. 
Here are some groups (in no particular order) with teen crush concepts that you should listen to:
1. Weki Meki
Fantagio Entertainment coined the term 'teen crush' as a mashup between the 'teenager' and 'girl crush' concepts, for the debut of Weki Meki. As the pioneers of the concept, Weki Meki has shown the duality that it brings. For example, in their song 'Crush' from their first single album "Kiss, Kicks." The video starts with member Kim DoYeon strutting towards a motorbike clad in leather, setting the tone that this group is not to be messed with. However, the song is about a typical teenage crush and the girls still pull off bright energy as they execute sharp choreography. They can show off two sides of their personality, much like we all have different sides to ours. 
2. ITZY
The most famous teen crush girl group, at the moment, would be ITZY who debuted on Feb 12, 2019. JYP Entertainment highlighted that he wanted the girls to express themselves as teenagers with 5 different personalities. By doing so, the girls would be more relatable to fans of a similar age. An example of how ITZY showcases their teen crush concept is the music video for 'WANNABE' which focuses on female empowerment through a story about coming of age. Most of the visuals (clothing, production design, etc.) are hard-core rock or hip-hop inspired, but the music video is fun and vibrant, showing that the girls do not take themselves too seriously on this journey of self-discovery. It's also refreshing that their lyrics are about themselves, as opposed to love stories featured in most K-Pop songs. 
3. Woo!ah!
Woo!ah! debuted on May 13, 2020, under NV Entertainment. This group gives off a huge girl-next-door vibe. Their visuals are vivid and soft but contrasted by the attitude in their dance moves and their fashion choices. The group can easily go back and forth between tomboyish baggy clothes and tight corsets, to show variety to their fans. Whether they are playing basketball in heels and a dress or rocking out in a vintage car to dramatic EDM, this group's concept is all about being carefree teenagers.
4. Rocket Punch
Woollim Entertainment's group Rocket Punch is literally a powerful surprise. Having debuted on August 7, 2019, they have become known to combine cuteness with confidence to create an impact whenever they release new music. Their teen crush concept can be noticed in their latest comeback music video 'Ring Ring' released on May 17, 2021. It features dazzling and catchy melodies, then transitions into a trap beat where their previously bright expressions turn more serious. The video backdrop is a world where grunge meets glam and the overall mood is youthful. Their other releases are just as layered and well-thought-out.
5. STAYC
STAYC is yet another of the many teen crush girl groups who are killing it right now. Their music video 'So Bad' from their first single album "Star To A Young Culture" shows that they are trying to be anything but the same as anybody else. The video takes place in a glamorous science fictional world. Rather uniquely, it starts with a rap and hip-hop focus before shifting into singing. The video is groovy and fierce but countered by sweet visuals, the perfect embodiment of the teen crush concept.
It's clear to see that the 4th generation of K-Pop girl groups has transitioned into their own style of how they want to come across to and communicate with their fans. The teen crush concept is all about being themselves and giving fans the platform to do the same. What do you think about the teen crush concept? Which teen crush K-Pop girl group is your favorite?