As K-Pop idol group Mamamoo continue their promotions for their latest release 'Wind Flower', their fashion concept is becoming the subject of conversation quite a lot lately by both fans and netizens.
And we're well aware that the members of Mamamoo are able to pull off pretty much anything when it comes to fashion, but the only problem is that there's even a limit to that when the stylist decides to haywire and put one of the members in an outfit that closely resembles JYP Entertainment Park JinYoung's embarrassing and notorious see-through pants.
And by that we mean the photo shown below.
And below is Hwasa's outfit.
Of course there are fans that say that the outfit looks great on her.
it amazes me how #hwasa can make even the most nonsensical outfits work. like, i shouldn't be digging those jyp-esque boots and that sweater. and yet i am sitting here salivating over every picture.

she truly learned from her mama, rihsus!#MAMAMOO #Wind_flower

— stardustpop (@astraeprincess) November 29, 2018
But there are others who are currently a minute away from butchering the stylist.
indeed. They are beautiful but those eyebrows and boots... Hwasa I am sorry ?

— Kristine (@Kristin22717177) November 29, 2018
You should just talk to Hwasa then because it was her idea most likely. Thank Rihanna for those boots.

— ⚡️Park Jaehee⚡️ (@Fengxian) November 29, 2018
And in general, there seems to be a lot of people who say that all the members' fashion styling is strange.
What do you think of the outfits?
Read More : IZ*ONE vs. CLC, Fans Talk About Song That Was Originally Intended For Latter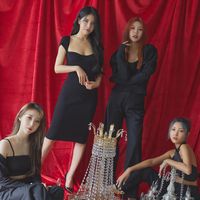 Became a fan of MAMAMOO
You can now view more their stories