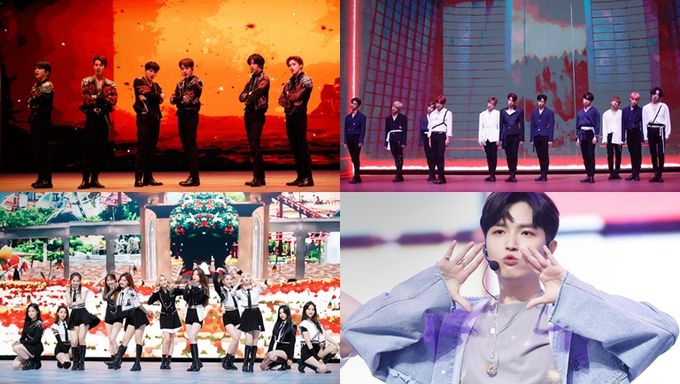 Due to COVID-19, one of the most expected K-Pop events all around the world KCON was canceled. However, through innovative technologies, idols could perform and meet fans through the new online format KCON:TACT for "a new beginning".
Kpopmap is covering the hot event "KCON:TACT 2020 SUMMER". For those of you who unfortunately could not attend the Day 1 on Saturday 20, we got you covered with a sum-up of stages performances and episodes! If you are curious to check out the lineup for the rest of the week, you can take a look here.
On Day 1, the lineup was composed of Kim JaeHwan, LOONA, MONSTA X, and THE BOYZ. They had a lot of fun interactions with overseas fans that they are missing a lot.
Opening Performance
LOONA's HeeJin opened the show with a solo dance on the perfectly designed and hi-tech stage. It looked like a "floating" stage.
LOONA Stages

LOONA was the first to perform with the energetic stage 'So What' in black and white outfits.
After the song, they greeted fans from all over the world and the Orbit they could see through the screen surrounding them. LOONA mentioned that it was their first online concert and that they were very happy and had prepared a lot.
Members mentioned that they feel the love from international fans and that they still feel happy even if they can't see them. They asked fans if they like their stage and they got the cheers from the Orbits surrounding them.
LOONA then showed the special greetings they had prepared in various languages for the event: Russian, Vietnamese, Spanish, Thai, German, Hindi, Italian, Chinese, Arabic, Turkish, and French. It was such a nice surprise for fans.
They then performed the cute and fresh stage for 'Ding Ding Dong'.
The girls looked happy while reading the live comments from fans: "Queen", "It was good", "I love it", etc.
Fans were asked to share in the comments what was their favorite song of LOONA: 'Not Today' by BTS covered by LOONA, 'Cherry Bomb' by NCT 127 covered by LOONA, and 'Butterfly' were mentioned.
They ended their stage with 'Number 1'  showing their young vibes and good vocals.
MONSTA X Meet & Greet
MONSTA X appeared in the first Meet & Greet section hosted by Eric Nam. In this whole new section, members were given missions and were receiving support from fans online.
The AR new technology made the group 'tower' appeared on the top of their head. Fans have to comment a lot for the 'tower' to fill up and fans to receive a present.
It was not the first online event for MONSTA X as they already held an online showcase for their recent new album "FANTASIA X" which received a lot of views and likes.
Members then started fun game "MONSTA X Title Match" with fans actively participating in the comments to vote. Virtual MukBang King ShowNu was holding the competition and members tried to steal his title by pretending to eat delicious food. The two nominees of the title were MinHyuk who pretended to eat raw octopus and HyungWon who pretended to drink. After fans vote, ShowNu decided to give the title to MinHyuk.
The next title on the line was MinHyuk's King of Numbness. After tickling all the members with a type of feather, JooHoney and I.M were the least responsive. Fans voted one more time and I.M was crowned by MinHyuk.
The MONSTA X's "tower" was full and their lightstick appeared. At the end of the section, members asked MONBEBE to stay healthy and that they hope to see them as soon as the situation gets better. They also gifted customized and signed shoes to the winning fan.
Special Stage - Sambakja by MONSTA X's JooHoney & I.M
Next on was the special stage 'Sambakja' by MONSTA X's JooHoney & I.M. The two rappers first performed the song back in their world tour "We Are Here Tour" in 2019.
On a traditionally decorated stage, the sexiest rapper and wildest rapper dropped their rap. JooHoney went at the drum and they closed their duo with impacts. It was a not-to-miss stage of the day.
THE BOYZ Stages
THE BOYZ made their entrance on stage with their white, navy, and black outfits and started with the powerful and sexy 'REVEAL'. They switched the mood with the next song 'No Air'.
Members mentioned how happy they were to be here and also mentioned that their win on "Road to Kingdom" was only possible thanks to The B.
They went through different talking sections with fans. For the first video call, they could not hear Erica (fan name) but she managed to write down her answer on a sketchbook. They had a cute talk where she answered that 'Sword of Victory' was her favorite stage of THE BOYZ on "Road To Kingdom" and that JuYeon was the best looking member for her.
THE BOYZ then had a photo time where fans could screenshot their pose: YoungHoon did a sexy pose, Q and Eric a cute pose, HyunJae and SunWoo a casual boyfriend picture.
They ended their stage with the song 'Salty' and summer song 'Bloom Bloom'. With this last song, they melt the hearts of fans with their bright and cute smiles.
 LOONA Meet & Greet
It was the turn of LOONA to have a Meet & Greet section. They talked about their popularity and how they have reached number 1 on numerous platforms with their songs.
The members started the new corner "Drawing Dance Revolution". One member was drawing on the screen to make members guess the song (team game). The first team had EXO's BaekHyun's 'Candy', BTS's 'ON', and SunMi's 'Gashina'. The second team had TWICE's 'MORE & MORE', NCT 127's 'Kick It', and EXO's 'Growl'.
After dancing to 'Candy', the group completed their 'Tower' revealing their lightstick and gifted customized and signed shoes to the winning fan. They thanked fans and wished them to say healthy.
Together Challenge
MONSTA's ShowNu was selected for the Together Challenge's section. He completed the sentence "We Can [] Together" with "Be" as he is hoping to see fans soon.
Kim JaeHwan Stages
Kim JaeHwan made his entrance and opened his stages with romantic songs 'Nuna' and the groovy song 'After Party'. Looking at all the slogans held by fans, he said that he loved it.
He further explained that he remembered all the stages he had done at previous KCONs and that this year is even more special.
In the "Video Call" section, the idol called Emy from Japan. Calling her nuna, he asked her if she had dinner and why did she like him. She answered she liked everything about him. With his soft voice, he sang a Love Letter for her.
Kim JaeHwan then had a "Morning Call" section where he answered the request of the fan by singing and dancing to 'Paradise'.
He then sang the breakup song 'Goodbye' and his "Crash landing On You" OST 'On One Day'.
AB6IX's Park WooJin surprised everyone with his entrance on the screen for a special online collaboration for the song 'Paradise'. Wannable loved their stage.
THE BOYZ Meet & Greet
THE BOYZ's Meet & Greet started cutely with a little mistake of Eric who bumped his mic onto his lips. It was a memorable start.
Members than mentioned that since they are going to "Kingdom", they will try to show more new stages and more of their charms on this new show.
They then started the "Live O.X Section". Members were asked to answer if Q could do weird dance moves since he is good at dancing and if Jacob can guess the cereal brand by tasting since he is a cereal lover.
Jacob had four types of cereal brands to match, even if he was right for most of them he could not match them all.
The group completed their 'Tower' revealing their logo and gifted shoes customized by Q and Kevin and signed by the members to the winning fan.
LOONA New Challenge Song Playlist
LOONA had a new section where they selected songs for a playlist: LOONA's 'Hi High', BoA's 'Atlantis Princess', NCT 127's 'Cherry Bomb', EXO's BaekHyun's Candy', and TWICE's 'Like OOH-AHH' were picked.
Special Stage LOONA
LOONA members then covered the song 'Cherry Bomb' by NCT 127 in breath-taking performance.
MONSTA X Stages
MONSTA X appeared in a mystical desertic area with their red and black shinning suits signature of 'FANTASIA X' area. They made a charismatic introduction followed by their most recent title track 'FANTASIA'.
Members said that they wanted to see fans and that they finally can with "KCON:TACT". The members then competed for the "Best Couple/Duo Of MONSTA X", the nominees were JooHoney & I.M, MinHyuk & HyungWon, and KiHyun & ShowNu. Fans could vote online.
Vote your favorite duo here!

— KCON official (@KCON_official) June 20, 2020
While waiting for the result the group sang two of their English songs 'You Can't Hold My Heart' and 'Middle of the Night' giving more focus on their vocals.
It was already time for the result, JooHoney & I.M won the best couple title and were the ones to have a "1-1 Call" with fans. JooHoney got to sing some of his rap lines from 'Hero' at the request of the fan. I.M then mentioned that his favorite foreign food was Brazilian steak.
They closed the day with a "fan featuring stage" for the song 'Stand Up'. Fans and members shared a happy time.
The first day of "KCON:TACT" was entertaining and filled with fun and great stages. The communication and participation of overseas fans though online was possible with a new bunch of technologies. Idols missed fans a lot and were happy to meet them. It is expected that the oncoming days will be even better than before!
You can also check the recap of Mnet below.