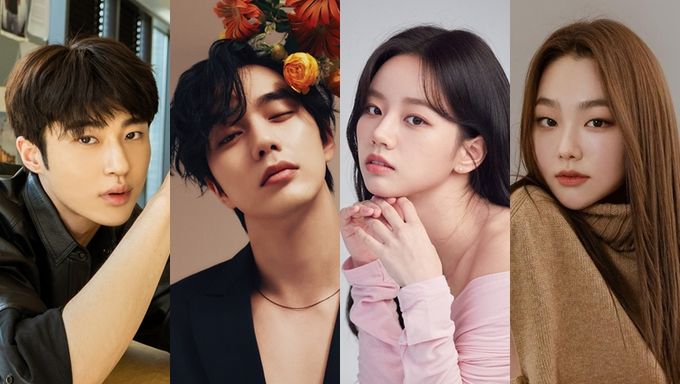 "When Flowers Bloom I Think Of The Moon" is a historical drama of KBS. It is part of the few historical dramas of 2021.
Yoo SeungHo, HyeRi, Byeon WooSeok, and Kang MiNa are confirmed for the lead role.
Yoo SeungHo is an actor recognized for his perfect acting skills. He previously starred in a lot of dramas including "I Miss You", "Remember, War of the Son", "I'm Not a Robot", "My Strange Hero", and "Memorist" along with the historical dramas "Warrior Baek DongSoo" and "The Emperor: Owner of the Mask".
Acting-dol HyeRi has been acting in a lot of lead roles too including "Reply 1988", "Two Cops", "Miss Lee", and the upcoming "My Roommate is a Gumiho". It would be her first historical drama but she previously acted in the historical movie "Monstrum" in 2018.
Byeon WooSeok is also the lead actor. Before his casting, we mentioned the actor as one of the best-suited actors for the role. Byeon WooSeok is mostly known for his acting in the historical drama "Flower Crew: Joseon Marriage Agency" and the drama "Record of Youth" with Park BoGum and Park SoDam. The model and actor is a rising actor to look forward to.
Kang MiNa previously acted in "Dokgo Rewind", "Hotel del Luna", "Summer Guys" and more. Fans are looking forward to her acting in this historical drama.
The director Hwang InHyuk previously worked on "Empress Cheonchu", "Sungkyunkwan Scandal", "Doctor Prisoner", and more.
The drama will start filming in May and air in the second half of the year.
Here is more information.
We will keep on updating, so stay tuned. 
When Flowers Bloom I Think of The Moon (2021)
Information
Title: When Flowers Bloom I Think of The Moon / kkot pimyeon dal saenggakhago / 꽃 피면 달 생각하고
Director: Hwang InHyuk
Writer: -
Network: KBS
Runtime: Second half of 2021
# of Episodes: -
Genre: Historical, Comedy, Romance
Language: Korean
Summary
It tells the story of three people who can ruin each other's lives because they keep on bumping into each other in front of the secret liquor warehouse during the prohibition law in Joseon: an inspector who came to Seoul to achieve fame and prestige to restore his family's name, a poor noblewoman who started to brew alcohol to pay back her debt and the crown prince who keeps on going over the wall to have a drink.
Cast
Yoo SeungHo as Nam Young
Nam Young is handsome and talented. He is a popular inspector who came to Seoul to achieve fame and prestige to restore his family's name. Many girls like Nam Young but he is only interested in books.
HyeRi as Kang RoSeo
Even in poor clothes, she can't hide her cuteness. She grew up as the precious daughter of a noble family but that only until she was 13-year-old. She ran here and there to pay for her mother's medicine and her brother's books. But, the family finance is doing terribly. Because of all the work she has been doing, she is physically strong.
Byeon WooSeok as the crown prince Lee Pyo
The crown prince Lee Pyo rebels in times of prohibition. He was not destined to be a crown prince but he now becomes the first and only prince to pretend to succeed to the throne.
The only friend of Lee Pyo is none other than alcohol. In this era of prohibition, he is considered a nuisance to the kingdom because he still leaves the palace to drink.
Kang MiNa as Han AeJin
Han AeJin is a straightforward woman and the only daughter of a prestigious family. She grew up doing what she wanted and she did not do what she did not want to. She does whatever she wants without fail.
As she approaches the age of marriage, she would like to have a good-looking husband because she has to look at his face for the rest of her life. She is straightforward to the person she likes.
Interesting Facts
-to be updated-