BTOB is a unique group among so many idol groups. Thier distinctive characteristics as well as ability as artists leave us with no choice to but love them. 
Despite their ability to rap and sing, they are famously known for being hilarious, or some say, mad. They also admitted that they consist ed of 7 craziness. Each member has their own bold colors, but oddly, they get along with each other so well. The staffs who have worked with them say, "Once you start working with BTOB, you have to give up staying sane." Their insanity continues on to stages, giving out great energy. Though we had BTOB's comeback not long ago, we can't help missing the loud mad energy they give on stages.  
Anyways, when we look at BTOB members, one thing we find quite similar among members is height. We don't see much difference in members and that could probably be because of the shoe insert. So, to gratify your curiosities here is a height chart of BTOB! 
SungJae, the youngest member is the tallest being 180 cm  (5.9 ft).  ChangSeob, our leader, follows up by being 177cm (5.8 ft). Peniel and IlHoon are right in the middle, both being as tall as 176cm  (5.77 ft).  HyunSik is the third from the smallest, 175 cm (5. 74 ft) and MinHyuk, the second to the smallest is as tall as 173 cm (5.67 ft). Our dear EunKwang is the smallest member among BTOB, being 171 cm (5.61 ft). 
Must Read : Yook SungJae of BTOB and Yoo SeonHo from Produce 101 SE2 Collaborates in Ads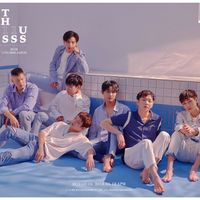 Became a fan of BTOB
You can now view more their stories