Who Are The Tallest And Shortest SEVENTEEN?
Guess what! How tall are SEVENTEEN in reality?

The image below presents the height ranking of 13 lovely boys from tallest to shortest. We can see that MinGyu dominates at a ridiculous height of 185 cm (which is around 6'1″)which is followed by WonWoo, Jun, DoKyum. Also some of the SEVENTEEN members still rank in top of the list, with S.Coups, JeongHan, THE8 at 178 cm (5'10") and Joshua, HoShi at 177cm(5'10.1″) which is quite tall as well.
Meanwhile, There are members who are not too tall but not short, literally average among SEVENTEEN members. These boys are Vernon 175cm ( 5'9″) followed by SeungKwan 174cm(5'8.5″) and Dino 170cm(5'7″). Surprisingly we can see that SeungKwan is taller than Dino. 
Lastly, as you can expect easily, WooZi(5'4.6″) is clearly the shortest or cutest member of SEVENTEEN. 
But note that the data is relied on the Internet community, it cannot be blind faith. About the height thing, I honestly believe that we will never truly know before we can see the BMI or height measurement in real.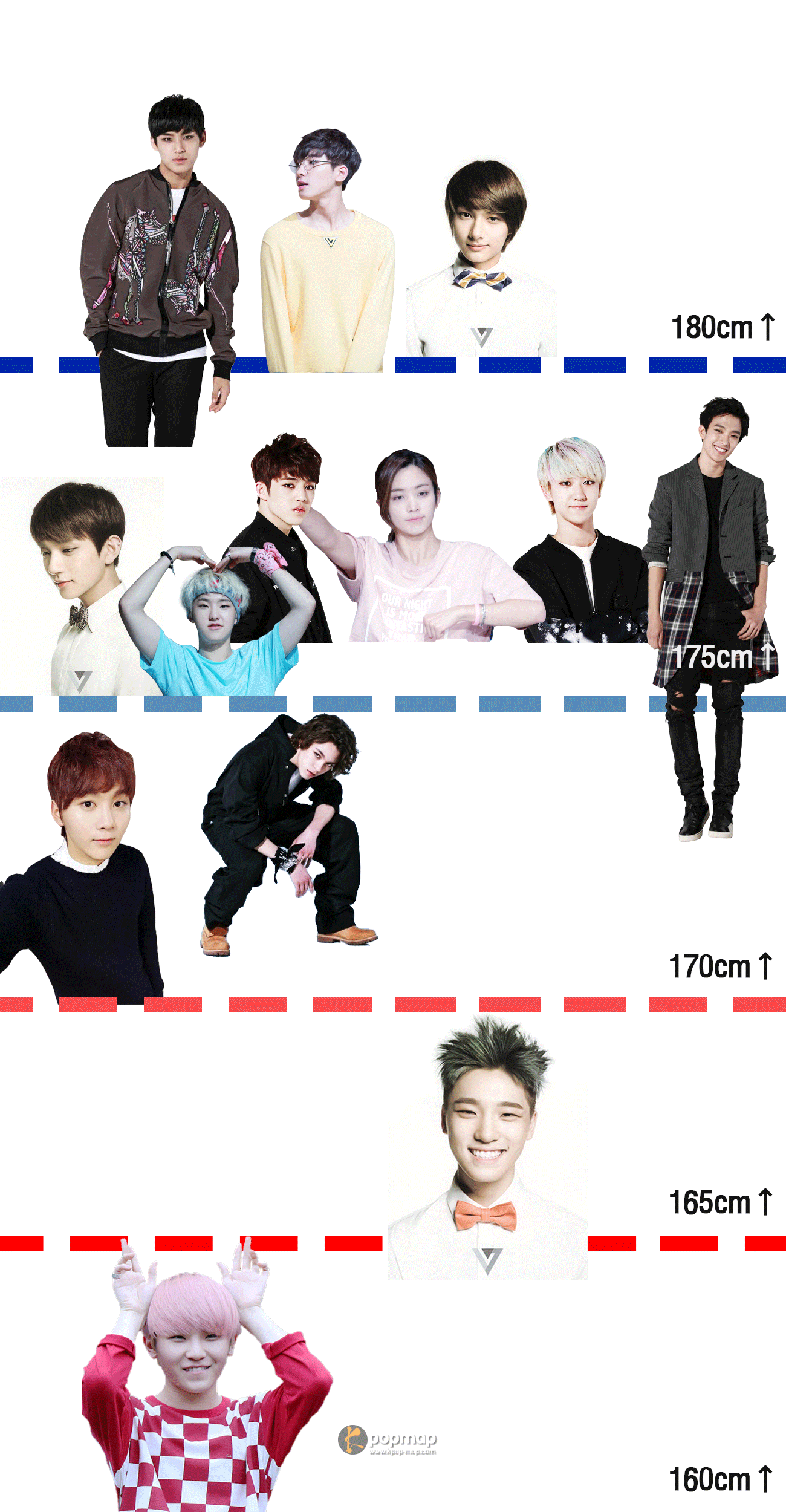 MinGyu (185cm > 6'1″)
WonWoo (182cm > 5'12")
Jun (180cm > 5'11")
DoKyum (179cm > 5'10.5″)
S.coups, JungHan, THE8 (178cm > 5'10.1″)
Joshua, Hoshi (177cm > 5'10")
Vernon (175cm > 5'9″)
SeungKwan (174cm > 5'8.5″)
Dino (170cm > 5'7″)
WooZi (164cm > 5'4.6″)
Must Read : Idols' Ideal Types Compilation: SEVENTEEN (Update)