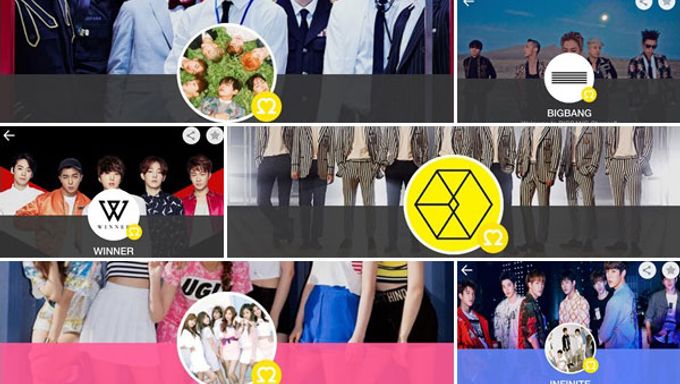 Launched on Jul 31, Naver's star video service V app revealed output that tells which star got the most fans until now. 
Here are two names who got more than 1 million fans of channel. BIGBANG and BTS 
. Each of them attracted 1 million, 758 thousands and 1 million , 450 thousands fans, followed by GOT7, iKON 
 , Apink 994 thousands, 964 thousands, 939 thousands in the intense competition. Not like expectation, EXO 
 channel had relatively small since theirs opened last month, not from the first place.
You can see the names within top 10 list. EXO with 978 thousands, INFINITE with 779 thousands, WINNER with 766 thousands, BTOB with 738 thousands and BEAST with 698 thousands. Between 11~20th rank, AOA, CNBLUE, Girl's Day, miss A, SISTAR, 2PM, 4minute, VIXX, Park Bo Young and B1A4 held the ranks. Favorite rookies like GOT7, iKON and WINNER are fighting for the next king of idols as you see.

TWICE
 achieved 420 thousands to rank 21th, while MAMAMOO proved their popularity with 23th rank. MONSTA X got 370 thousands, Senventeen 260 thousands, Lovelyz 210 thousands and UP 0TION got 180 thousands too.
In terms of agencies, SM Town, YG family, JYP nation, CUBE, FNC, YGK+, Starship, DSP media, Sidus, MBK Enter, AOMG, STAREMPIR, Magic strawberry sound, Don't worry music, Brave Enter, C-JES, Esteem, Amoeba culture etc. are listed as well.