Celebrities are often caught wearing the same outfit. 
Those who have been caught wearing the same outfit are usually compared who pulled off the style better. Due to such reason, celebrities reform and change the way clothes were originally made to be distinctive. However, some clothes are just made to be worn that way and they cannot escape being compared. 
Two hottest icons were caught wearing the same dress. Irene of Red Velvet and Jennie of BLACKPINK both wore, "Not  Your Rose Flower One Piece." Irene wore the dress while she was shooting "Weekly Idol" and Jennie wore the dress on performing stage. 
Irene wore a blue version of the dress with white ribbons while Jennie wore the black version of the dress with pink ribbons. So, who do you think was able to express 120% of the dress?
Must Read : List of Korean Celebs' The Same Clothes, But Different Styles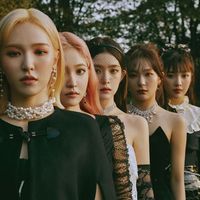 Became a fan of Red Velvet
You can now view more their stories