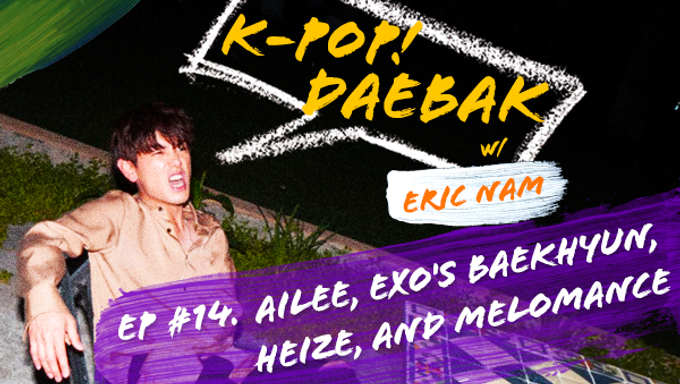 Hello readers! This is the 14th episode of K-Pop Daebak w/ Eric Nam! Aaaand Eric is back from his long journey! Eric greets and updates us on how horrifyingly tiring and busy it was for the past few days.
Eric basically spent 20+ hours in the air (LA->Atlanta->Seoul) and went straight to his old friends(Urban Zakapa)'s 10-year anniversary concert as a guest. According to Eric, he blacked out on stage because he was extremely tired and delirious.
Eric recently did a video with Buzzfeed while he was in the states and he commented that he feels like he has provided 300 additional memes to his stockpile of memes. You can check the video below!
With that, let's get right into the first feature of this show! It is Ailee  with her latest release, "Room Shaker".
Ailee came back with her first solo single in two years! When he first saw the music video, Eric commented that he was shook because it was so different from her previous works, explaining that the song is like a Hip Hop meets EDM, with "shake ur booty" power song into it (so great at describing ERIC!)
He compliments her by saying that she's such a great performer/singer/dancer, that whenever she's on the stage, she owns it and makes it to her own. Eric added that she appeared as a guest during his concert and got a little jealous because she blew everyone's mind away during that performance.
Next up is EXO  BaekHyun 's solo, "UN Village"!
The song is from BaekHyun's first solo mini-album, "City Lights". The album itself is mostly comprised of  R&B vibe into it which was a bit surprising for Eric because he expected it would be more leaned to pop songs.
Eric added, he had been such a big fan of his voice which naturally made this release a lot more exciting. He also commented that the song reminded him of another famous Korean R&B singer, "Dean"
The third artist of this episode is Heize and her new release "We don't together" featuring rapper, Giriboy and guess what? the song was produced by none other than BTS Suga !
For some of you who are not familiar with the artist, Heize is a female rapper and her first big start in the industry was made through Mnet's "Unpretty Rapstar Season 2". Eric comments that she may not have won the show but she turned out to be the most prolific artist at the moment.
The last featured artist is Melomance with "You and I".
Eric talked about a joint concert he did with the group in the past called. "Eric-Romance" (A combination of Eric Nam and Melomance).
Melomance is a duo group with one singer and one pianist active since 2015. Back then, Eric said he wasn't sure who they were but soon after, they became huge in the Korean music scene!
That's it for this episode's featured artists and next is crazy ramblings with Eric Nam! joined by "ramble specialist". Brian Nam.
In this segment, Eric and Brian answer some of the questions that were asked via Eric's twitter. Prior to the show, Eric asked, "Anybody having a tough time recently? Let us know and we will give you some unqualified advice".
It's a whole new load of gems so don't miss it! If you haven't listened to the episode yet or you want to listen to it again, go ahead to your podcast providers or you can listen to them below!
With that, we'll see you guys in the next episode! Du-rub-du-rub-du-du~!!
Apple Podcast: K-pop Daebak w/ Eric Nam Ep. #14: Ailee, EXO's Baekhyun, Heize, and Melomance
Official Website: K-Pop Daebak w/ Eric Nam
Read More : Red Velvet's "Zimzalabim" Was Influenced By SNSD's "I Got a Boy"?