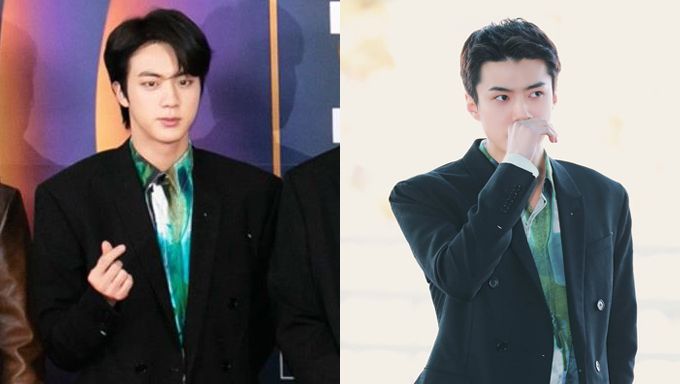 It is common to see K-Pop idols wearing the same outfit at different occasions and sometimes we cannot help but jaw-drop over their stunning beauty and physique. Despite having the same outfit, sometimes K-Pop idols add a little tweak by changing up the look.
Today, we noticed that BTS's Jin and EXO's SeHun were wearing the same outfit at different occasions.
Jin had first wore it during SBS "Gayo Daejun" in 2019 and he looked sleek and handsome with it.
As for SeHun, he was spotted wearing the same outfit on Jan. 15 when he was in the airport for an overseas schedule.
Compared to Jin, he did not button the shirt fully and gave off a rich CEO-look as mentioned by many fans.
For those who are curious, this collection of outfit is from the brand 'Berluti' for their 2020 spring/summer collection.
It is priced at KRW1,480,000 (USD1269) and you can take a look on the website here.
As much as many would like to compare the two idols, many would also agree that the two of them looked exceptionally handsome with the outfit. Do you agree too?
Who do you think wore it better?
Read More : Who Wore It Better CIX's SeungHun Or VICTON's SuBin?