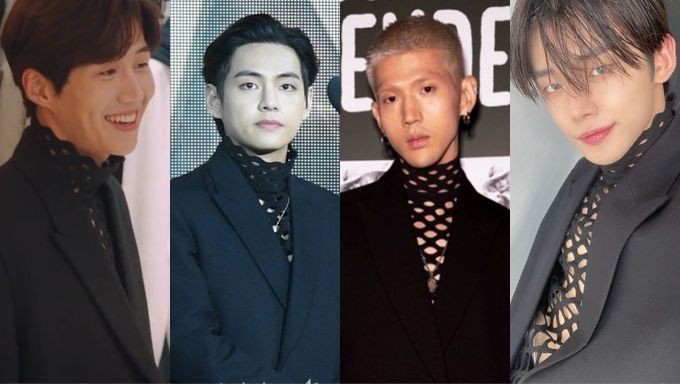 Recently, we've seen four of our favourite superstars of the Korean entertainment industry wear the same outfit on some very important occasions. This begs the question: Who wore it better?
The outfit in question belongs to the Valentino Act Collection for Fall/Winter of 2021-22 including a black mesh effect top and a black suit to top it all off with perfection.
BTS' V recently wore the outfit for The Fact Music Awards 2021. At around the same time, we saw KARD's BM rock it at Paris Fashion Week. TXT's YeonJun had previously sported the fit for his photoshoot with Elle Korea. Kim SeonHo was seen wearing it on an episode of "Hometown Cha-Cha-Cha" while picking out clothes with Shin MinA.
Here's how the celebrities looked wearing the outfit!
BTS' V
KARD's BM
TXT's YeonJun
Kim SeonHo
Each artist added their own flair to the outfit and even though it's the same, everyone looked quite different from each other. V looked elegant and regal, BM looked high fashion and dreamy, YeonJun looked like a rockstar and Kim SeonHo looked like the man of our dreams.
Who Wore It Better?
※You can vote multiple times without sign in.
What did you think of this outfit? Share your thoughts with Kpopmap in the comments section down below!