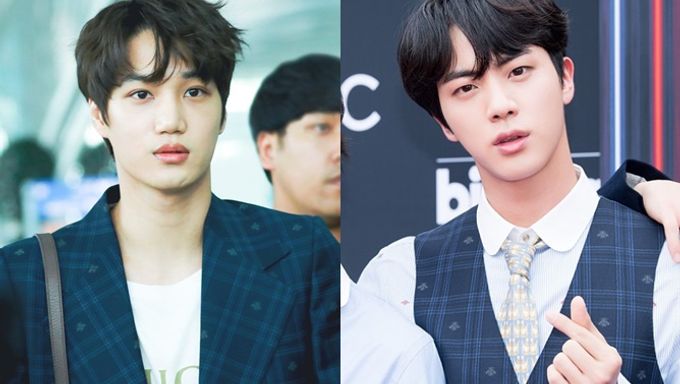 Many idols like Gucci and the brand's outfits suit the idols very well too.
BTS's Jin and EXO's Kai were seen wearing a similar Gucci suit at different occasions. They both look amazing in it!
BTS's Jin was seen at the "2018 Billboard Music Awards" on May 20th with the bee check format vest with assorted pants from Gucci. He wore a blue shirt and a tie with it. Jin looked elegant and yet comfortable in the outfit. The blue color also somehow gave him a cute and youthful vibe. This might be the charming prince outfit.
On May 29th, EXO's Kai was seen at Incheon Airport, Korea, on his way to Paris for Gucci Cruise 2019 Show event. He was wearing the whole Gucci suit set. Accessorized with a Gucci bag, a white teeshirt, and sports shoes. With the whole Gucci outfit, Kai definitely looks like the perfect model. He looked chic and charismatic with a charming smile. The shoes and teeshirt's choice gave him somehow a 'relax' look.
Both look amazingly handsome with this outfit and gave their unique vibes to this outfit.
Who wore it better?
Read More : Who Wore It Better TWICE's JiHyo Or BLACKPINK's Jennie?