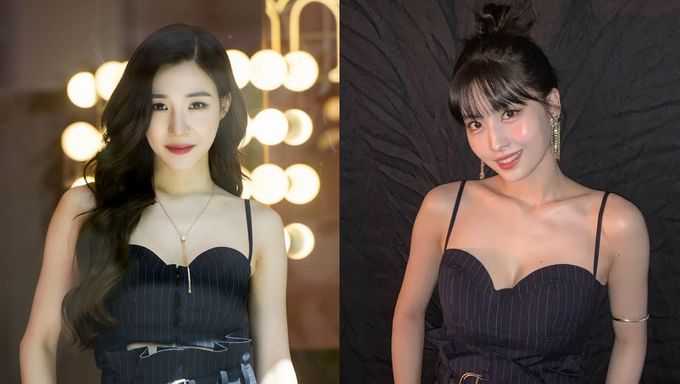 Girl's Generation member and soloist Tiffany Young and TWICE's Momo are known for being total fashion queens. Everything they wear looks flawless on them and their personal sense of style is also eclectic, to say the least. The two are also incredible artists in their own right with equally charismatic yet distinct charms. 
It is not surprising when two artists wear the same outfit on different occasions. After all, it is more sustainable, and sometimes, if something looks good, it is nothing but a wise decision to wear it, regardless of whether it has been sported by someone else already.
One such case is that of Tiffany Young and TWICE's Momo. They both wore a similar dark denim jumpsuit that looked absolutely stunning on both of them. As always, even though they were wearing the same clothing item, they carried it with completely different charms.
Tiffany accessorizes the look with a gorgeous necklace whereas Momo chooses a pair of Chanel earrings for the same.
Tiffany's hair is let down whereas Momo brings it up to a messy bun with bangs. Both the idols have completely different ways of delivering the final look and we can't stop swooning over either of them.
Whose look do you prefer? Share your thoughts with Kpopmap in the comments section down below!
Who Wore It Better?
※You can vote multiple times without sign in.