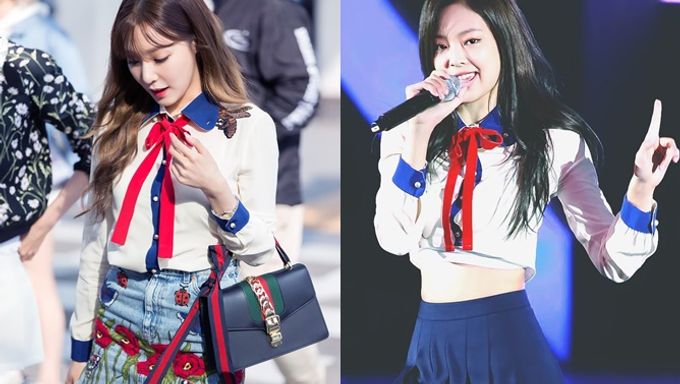 BLACKPINK's Jennie and Tiffany were wearing the same blouse.
Both girls are known as fashionista, they were seen with the 'embroidered silk shirt' blouse from Gucci that costs $1,300.
Tiffany was seen wearing the blouse at the airport on April 15th, 2016. The girl wore the blouse with a Gucci jean mini-skirt, along with a refined Gucci handbag and black shoes. She looked elegant and tidy.
Jennie wore it on stage for 'Volkswagen FLY HIGH 2018' on December 15th, 2017. The girl decided to wear it in a cropped version so that it revealed a part of her body. She also wore a mini-skirt and long socks and boots. She looks sexy in this outfit. Some fans called this outfit 'Sailor Moon' outfit.
Both girls wore the outfit with their own style and both look fashionable and beautiful with it.
Who wore it better?
Read More : Who Wore It Better Gugudan's SeJeong Or TWICE's ChaeYoung?