Irene of SM Entertainment's K-Pop idol group Red Velvet is known widely for her epic beauty which comes up every few decades or so within the scene.
But let's forget about what she is usually known for, for a moment.
While everyone is busy feasting their eyes on how beautiful she is, it causes people to sometimes to not notice how caring she is. Sure, some may talk behind her back and say that she looks much too cold and etc. Sure, she may sometimes have that mean girl vibe because of her sharp visuals, but her personality is quite the opposite, we can assure you that.
Below are a few reasons why Irene is the best leader and one of the most caring people within the K-Pop scene.
She Does All The Heavy Lifting To Make Sure The Group Members Are Comfortable
As you can see, she's behind carrying the heavy picnic basket while the other members walk comfortably to their destination.
She Buys Refreshments For Group Members All The Time
She makes sure that all the group members don't go hungry or thirsty.
She Does The Same To Fans
When a fan looked cold, she offered her portable warmer to her.
Read More : IZ*ONE vs. CLC, Fans Talk About Song That Was Originally Intended For Latter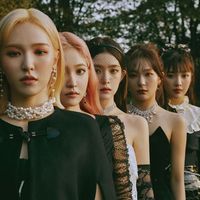 Became a fan of Red Velvet
You can now view more their stories