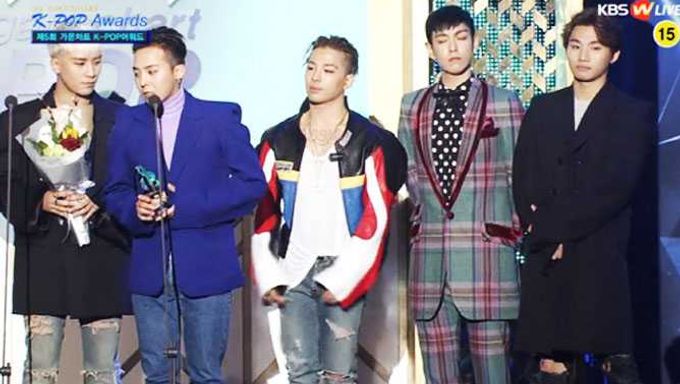 News from the 5th Gaon Chart K-POP Awards have come.
In the evening of the 17th, 2016 Gaon Chart K-Pop Awards was successfully held at Olympic Hall in Seoul Olympic Park. There was no grand prize for the awards. The big issues for the music festival has been compiled.
Must Read : [UPDATED] 5th GaonChart K-Pop Awards 2015: Line-up
Big Bang
Big Bang won Artist of the Year from May to August and Most Influential Group of Asia. Also the stylist of Big Bang and iKON, JiEun, received Stylist of the Year. TOP said, "So happy to receive many awards today, and we will do our best on music to be the best team which will be loved for 20-30 years more!"
EXO
EXO won Album of the Year in the first, second and third quarter of the year; 'EXODUS', 'LOVE ME RIGHT' and 'SING FOR YOU'. Also the team won Fan Vote Popularity Award and the member SeHun won Weibo Star Award. The team's album sales recorded over 1 million last year.
GFriend & iKON
The hot rookie of 2015, GFriend, won New Artist of the Year (Rookie Award). Same award for man was given to YG's new rising star, iKON. iKON said, "We are so appreciate fans' enormous love. Although we are not strong now, we will do our best to be the best team."
Rest Winners
AOA & SEVENTEEN - World Rookie Award
B.A.P & Baek AhYeon – Hot Trend Award
BTS – K-POP World Hallyu Star Award
Red Velvet & VIXX – Hot Performance Award
Mino (Hip Hop), Hyukoh (Indie), Lee AeRan (Teuroteu) & Zion.T (R&B) - Genre Award
Yang HyunSuk (Rep. Producer of YG) - Producer of the Year