Our K-Pop idol woman crush of the week is none other than the happy virus of APink, BoMi!
When the world expects you to act a certain way, you're going to struggle between fitting in and being yourself. Well let us tell you a story of a certain K-Pop idol who when told to be calm, quite and pretty, said "No." APink's BoMi is a gorgeous girl who is a complete happy virus cutiepie!
Must Read : Teaser )) Apink – Only One
Let us tell you why we crush hard on our Kpop woman crush of the week, BoMi of APink!
Woman Crush Wednesday: BoMi of APink
BoMi
(Yoon BoMi)
Who's Our WCW
BoMi was born on August 13, 1993 in Suwan, South Korea. During her high school years, BoMi's career path decision to become a singer moved her to switch her high school from YoungShin Girl's High School to Korea Arts High School. Once graduated, she put off college for the time being in order to focus on her career as a K-Pop idol. As the bubbly member of APink, BoMi gained much love and attention for her gorgeous visuals, as well as her happy virus personality.
Why We Crush
BoMi is adorable, and its the understatement of the century. With just a single gesture, our girl crush has the ability to melt the heart of dracula himself! She's constantly full of bright energy that light up the room. With her puppy eyes and her 4D personality, she's a literal happy virus.It's no wonder that the other APink members love to surround themselves with BoMi, BoMi and more BoMi! Just take a look at her aegyo!
Where We've Seen Her
BoMi may be overflowing with adorable energy, but don't mistake her for a child! BoMi knows just how to channel her bright energy to get her career moving. She lights up the atmosphere of any show with her bright energy. She's made a name for herself as one of the best idol MC's in the industry. You've probably seen her most as one of the early special MCs of MBC's "Weekly Idol". She's been on it for 2 years! More so, BoMi hosted various variety shows and dramas. Watch out HaNi, because BoMi's coming for your MC Idol title!
Where We'll See Her Next
Pink Pandas will know! BoMi is coming your way very, very soon. APink will be making their comeback through their 3rd full length album, "Pink Revolution". BoMi-fanatics will be able to see her as she promotes the all new album as the happy virus of the group. To farther celebrate the group's comeback, APink's new reality show just launched this week! Fans can watch APink's "Extreme Adventure" through Naver V App and spend more time with our adorable woman crush.
See you next week for another installment of Kpopmap Woman Crush Wednesday's star!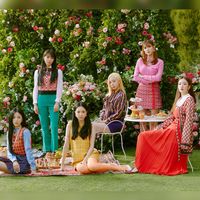 Became a fan of Apink
You can now view more their stories