Try and try again. If you fail, get back up to try, try again!
Everyone knows just how competitive and cut throat the girl group industry is. Among the infinite mass of girl group-hopefuls, Yoon ChaeKyung never gave up hope that she will become the ultimate success that she can be. When others would simply give up, ChaeKyung continued to train and strive to find her permanent home as an officially debuted ChaeKyung!
Must Read : MV )) April – April Story
Get inspired to dream big and never let go with the story of this week's crush, Yoon ChaeKyung!
Woman Crush Wednesday: ChaeKyung of APRIL
ChaeKyung
 (Yoon ChaeKyung)
Who's Our WCW
Yoon ChaeKyung was born on July 7, 1996 in Incheon, South Korea. She graduated from the well known Hanlim Multi Art School and had actually debuted in September 2012. ChaeKyung is a hard working idol who's already had various promotions in both Korea and Japan. Although plans kept falling through, she stuck on loyally with DSP Media to eventually collect recognition through her various promotions. Although she may have jumped from group to group for project albums, she finally found her permanent home as the oldest member of APRIL! She joined the group as a new additional member and officially re-debuted on January 4th, 2017.
Why We Crush
ChaeKyung's idol life first began in Japan, when she debuted as a member of DSP's Japanese girl group, Puretty. She, alongside APRIL's former member and now K.A.R.D member SoMin, promoted for two singles before disbanding in 2014 to re-debut in different groups. She then participated in DSP's search for a new KARA member through the show "KARA Project". Although Hur YoungJi became the one and only finalist, ChaeKyung stuck on with the label. Her next adventure was to compete on "Produce 101" in 2015. Once again, ChaeKyung failed to debut as an I.O.I member. However, the show gained her a nice following group of fans. She and APRIL member ChaeWon released a project single, "Clock" in 2016. She then went on to debut as a member of the project group C.I.V.A, after featuring on "God of Music". After their short promotions, ChaeKyung was recruited into the I.O.I's counter part project group, I.B.I. While promoting for I.B.I, ChaeKyung was asked to replace hiatus member HyunJoo for APRIL's first solo concert. Realizing ChaeKyung's potential and how she fit in so well with the group, DSP finally decided to add ChaeKyung to APRIL's reboot lineup! With so much experience and trials, our girl crush has endured so much, learned so much, and has prepared so much for her final debut!
Where We've Seen Her
Although ChaeKyung's been active on multiple occasions, she's best known for her participation on Mnet's hit sensational show, "Produce 101". On the show, she and 100 other girl group trainees competed against each other for a chance to debut into the project group, I.O.I. Although her previous experience helped her to stay near the top of the list each week, she was just a few votes shy of actually making it into the final lineup. Either way, she made a lasting impression through her various performances and placed 16th among the hundred of girls.
Where We'll See Her Next
Just when we were wondering when we'll finally get to see ChaeKyung on an official debut stage, DSP has graced us with the decision to add ChaeKyung to the newly rebooted lineup of APRIL! ChaeKyung joined the rest of the girls for the group's 3rd mini-album, "Prelude". The album just dropped on the 4th, and the records are already praiseworthy! Although she may be a new member, ChaeKyung will be providing the group a much needed refreshment to their overall image. Thanks to APRIL, we will now be seeing much more of ChaeKyung throughout the rest of the year!
See you next week for another installment of Kpopmap Woman Crush Wednesday's star!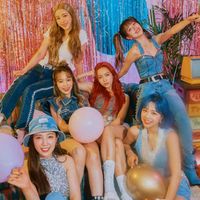 Became a fan of April
You can now view more their stories