She's beautiful, adorable, and so incredibly talented. We're crushing hard on EunHa of GFriend!
Our WCW of the week - EunHa - has been in the industry for years. That means, she's basically seen it all and been there before. Even through the rough times of growing up as the entertainment industry child, EunHa pulled through it all to debut as one of the best K-Pop girl groups of the century. Let us inspire you to go get your star in the sky with the reasons on why we absolutely love GFriend's EunHa!
Must Read : MV )) Hwang ChiYeul & GFriend EunHa – Firefly (Feat. Lil Boi of Geeks)
From the beginning to the present, find out what makes EunHa so crush worthy!
Woman Crush Wednesday: EunHa of GFriend
EunHa
(Jung EunBi)
Who's Our WCW
Our girl, EunHa was born on May 30, 1997 in Seoul, South Korea. Ever since she was young, EunHa was thrust into the entertainment industry. She began as a child actress and starred in minor roles. Even through the rough industry at a young age, EunHa found her true calling to be a K-Pop singer. She became a trainee at Big Hit Entertainment, alongside GFriend member SinB. When her plans to debut through Big Hit had failed, EunHa didn't give up. She fought even harder. She debuted as a member of GFriend under Source Music, a brand new rookie label. Although the group's resources were scarce and the girls were considered underdogs, the group pulled through with blood, sweat and talent. After their breakout "Me Gustas Tu", the girls continue to climb higher and higher on the K-Pop hierarchy and now reign as powerful queens. Way to pull through and earn what you deserve, EunHa!
Why We Crush
EunHa is a beauty, that's for sure. With her innocent puppy eyes and small baby face, many skeptical people expect the visual member of GFriend to stand still and be pretty. That's not that case! EunHa is actually the lead vocalist as well, complimenting well with the main vocalist YuJu. To prove to her fans that she's got the talent as much as the beauty, EunHa surprised many when she appeared on "King of Mask Singer". She blew away the judges and the audience with her sweet rendition and proved once and for all that she's got what it takes to be a K-Pop super star.
Where We've Seen Her
With her lovely, crystal clear voice, it makes sense that EunHa would be one of the top artists to collaborate with. Her first collab comes with BLOCK B's Park Kyung with "Inferiority Complex". Detailing the timid and common jealousy that every couple goes through, the two's couple song hit high on various music charts. EunHa's clear voice and Park Kyung's sultry voice made the perfect harmony. EunHa was just born with a voice that compliments well with other famous artists!
Where We'll See Her Next
EunHa's love calls for special collaborations continue with a request by Hwang ChiYeol! Although it may not be an official schedule under GFriend, fans will be able to see and listen to our Kpop WCW through her latest feature with the heartthrob singer. The special collaboration single features the famous "Show Me the Money" contestant, Lil Boy of Geeks, which completes the perfect harmony of the three artists. Can't wait to see even more musical events by our lovely queen!
See you next week for another installment of Kpopmap Woman Crush Wednesday's star!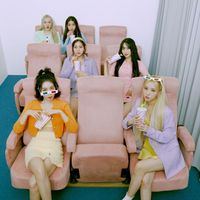 Became a fan of GFriend
You can now view more their stories