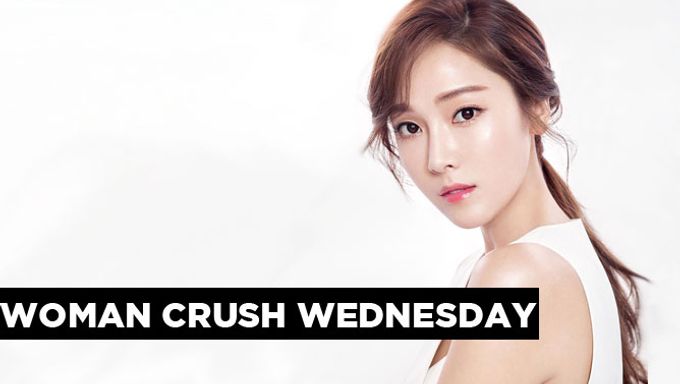 Welcome to another edition of Kpopmap's Woman Crush Wednesday, where we empower women to become all that they dream to be!
Women are beautiful. Women are strong. Women are powerful. We want you girls (and guys) to be inspired to be able to become whatever you aspire to be! That's why we created the Woman Crush Wednesday segment for our readers. Here we share the detailed profile and story about one of the hottest female K-Pop idols, who's story can inspire you go work hard to fulfill your dreams. Work hard, play hard, amirite?!
Must Read : Woman Crush Wednesday: IU
You all know who she is, but did you know this about her? Let me introduce you to the lovely Jessica Jung!
Woman Crush Wednesday: Jessica Jung Edition
Jessica
(Jung SooYeon 정수연)
Who's Our WCW?
Jessica was born on April 18, 1989 as Jung SooYeon. She was born in San Francisco, CA (USA), but was street casted by SM Entertainment while on vacation in Korea. Jessica had spent 7 years as a SM trainee before debuting as a main vocalist of SNSD (Girls' Generation). Jessica quickly gained attention within the group as the Ice Princess for her beautiful, yet emotionless expressions. Not only is she known for her beauty, she was one of the best singers within SNSD, which landed her rolls in musicals and solo soundtracks. In August 2014, Jessica had launched her very own fashion line, BLANC and ECLARE. Just about a month after the launch, Jessica and SM Entertainment had parted ways as the group's and her schedules conflicted frequently. She is now active as a solo artist, fashion designer, and actress.
Why We Crush
How do you even summarize all of Jessica's hard work and success? Jessica has always been a visionary who sweats blood and tears to get what she wants. Even from the very beginning, she had proven that she deserves what she's gotten. Her initial street casting was actually for her younger sister, but Jessica auditioned as well. She proved to SM that she was the next star, which landed her a spot in the global phenomenon: SNSD. Since debut, Jessica and the other SNSD members had practiced not only singing and dancing, but paved the way in other genres such as variety skills. Through their hard work they've achieved the title of the "K-Pop's Main Girl Group".
After her departure from the group, Jessica's ventures have expanded even farther. Jessica, ever the fashionista, has created her own luxury fashion line, BLANC & ECLARE. Not only does B&C sell fashion goods and accessories, they have recently launched their cosmetic line with moisturizing creams and facial blends. The reviews for her products have been stellar and her customers hail from all over the world. By becoming one of the hottest fashion designers in Hong Kong, she now travels all over the world discovering new trends and business methods to continue the growth of her brand.
Where We've Seen Her
We can't deny that Jessica's fame started from SNSD. But currently, we've been seeing her all over the fashion world. If there's a famous fashion event, you bet Jessica's name is on that list! Most recently, she's been spotted at an exclusive Balmain event in Seoul. She's also been chosen to co-host the beauty/fashion show "Beauty Bible". She's got a lot on her plate; you can't miss her!
On another note, many know her as the older sister of f(x)'s Krystal. The two talented sisters are famous as #sistergoals. Ever since they were young, Jessica and Krystal have been inseparable. They even had their own reality show "Jessica & Krystal", where fans were able to get a more in depth view of their sisterly love. Jessica had even recently uploaded a picture of their encouraging relationship on her Weibo account.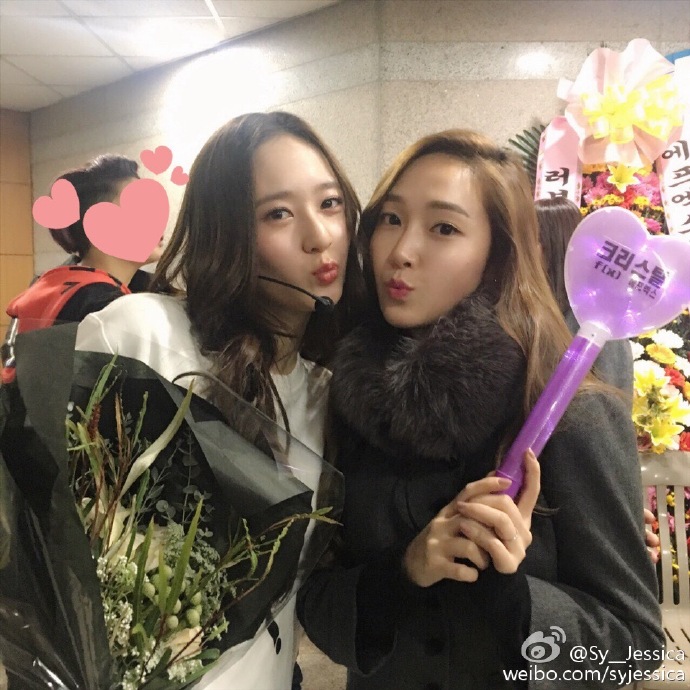 Weibo syjessica
Where You'll See Her Next
Although Jessica flys solo now, fans haven't been missing her too much. That's because Jessica still remains active to make sure she's there for her fans. And good news for SONEs/Jessica's fans, Jessica will be debuting as a solo artist this coming May! She's already been getting love calls from big variety shows (such as Radio Star). With so many fans backing her, she has decided to launch her very own fanclub. This girl knows what she's doing, and we're going to be seeing much more from her very very soon!
All in all...
Jessica's just loving life!
See you next week for another installment of Kpopmap Woman Crush Wednesday's star!
xoxo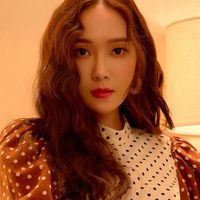 Became a fan of Jessica
You can now view more their stories