Not everyone is cut out to be the leader of one of the hottest group of K-Pop, but JiHyo is a whole different story.
When you're young your hopes and dreams change as much as monthly or yearly, but this one K-Pop star knew what she was destined to be since she was in elementary school. The fierce, gorgeous leader of TWICE knew what she wanted and continued to fight for it head strong, even through the toughest times.
Must Read : Teaser )) TWICE For 3rd Mini Album "TWICEcoaster : LANE 1"
Let us inspire you with the amazing story of this week's Kpopmap woman crush, JiHyo!
Woman Crush Wednesday: JiHyo of TWICE
JiHyo
(Park JiHyo)
Who's Our WCW
Park JiHyo was born on February 1, 1997 as Park JiSoo. Our idol was born in Guri, GyeongGi-do of South Korea where her dreams to become a K-Pop star blossomed. When she was just a child in elementary school, she competed in a Junior Naver contest, where she ultimately won 2nd place and landed a scouting offer by JYP Entertainment. In 2005 she officially joined JYP as one of its youngest trainees. Over her trainee days, she's been included in multiple trainee girl groups and featured on various feature schedules such as music videos and commercial gigs. On October 20, 2015, JiHyo officially debuted as the main vocalist and leader of JYP's latest group TWICE. The rest is history as she and the group have been soaring above heights within a year since their debut.
Why We Crush
Many of us change our dreams as frequently as we switch out shoes. But JiHyo knew what she wanted to be and stuck through thick and thin to make it true. Our idol stuck through as JYP's training program for over 10 years, where she cycled through potential girl groups and having debut plans fall through. To put it in relative terms, JiHyo was a trainee even before the Wonder Girls debuted. Early 2015, she was finally listed in the lineup of JYP's upcoming seven member girl group that would be decided through the show, "Sixteen". Through the competition survival show, JiHyo showcased just how much she's practiced and grown over the 10 years. All her hard work and will power paid off, because she's now the leader of one of the hottest K-Pop girl groups out there today!
Where We've Seen Her
JiHyo's desire to continually improve didn't stop with her debut. She wanted to show everyone just how much talent she's accumulated while training under JYP for over 10 years. She amazed the audience on "King of Masked Singer" where she sang a duet of "Dream" by Suzy and BaekHyun. Netizens noticed just how much talent she's had over the years and even how much she's improved since her "Sixteen" days. With a beautiful voice that matches her beautiful visuals, we can tell we haven't even seen the peak of her career yet!
Where We'll See Her Next
Awwww ya! The K-Pop's hottest princesses, TWICE is making their comeback on October 24th! The girls are returning with their 3rd extended play, titled "TWICEcoaster: LANE 1", just mere months since their global hit, 'Cheer Up'. JiHyo will be at the head of the group, leading the ladies in their upcoming return. We can't wait to see what more improvements and activities JiHyo has in store for us this month!
See you next week for another installment of Kpopmap Woman Crush Wednesday's star!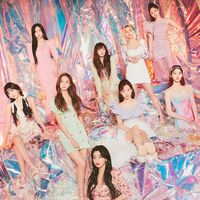 Became a fan of TWICE
You can now view more their stories