She's literally in charge of being the girl crush of TWICE, so we show you why you should be crushing hard on our JungYeon!
TWICE is famous for being the girl group with no main visual, because every member has visuals beautiful enough to be the face of the group. Among the beautiful JYP flowers, JungYeon also has a beautiful face, but she's got a whole another charm going for her. She uses that face to be the dorkiest and most adorable person on Earth!With her boyish charms and her 4D personality, it's no wonder she's the latest girl crush icon.
Must Read : Photo )) 161111 TWICE Heading to KBS Music Bank
Check out everything you need to know to start your life long woman crush on TWICE's JungYeon.
Woman Crush Wednesday: JungYeon of TWICE
JungYeon
(Yoo JungYeon)
Who's Our WCW
JungYeon was born on November 1, 1996 in SuWon, South Korea. When she was just a young student, JungYeon auditioned for JYP and won her place as a trainee by winning the IVY Club Star award. She had actually gotten a casting call from JYP and another company, but she chose JYP over the other label - and we think she made the right choice! She initially started off with dancing, but her vocal abilities soared. She even got recognition for her vocal potentials from J.Y. Park himself on "SIXTEEN". As the last member of "SIXTEEN" to be revealed, JungYeon flew through each challenge to debut as the girl crush member of TWICE!
Why We Crush
JungYeon has such a beautiful face that can be lovely, cute, chic and boyish all at the same time. Although she could be a woman crush just from her beauty, JungYeon's dorky personality is what makes her even more crush worthy. Her most famous catch phrase comes from a video when a fan asks her to "becareful using her face", because she's a girl group idol. JungYeon then nods cutely and then poses a ridiculous face just a second after and runs away. ONCE have all deemed the cut as the video that best defines who she is. Since then, ONCE and netizens have fallen in love with her dorky ways and non-traditional girl group personality. 
Where We've Seen Her
Surprise, surprise! As the self proclaimed funniest member of TWICE, JungYeon landed herself as one of the main MCs on SBS's "Inkigayo". She stands next to trendy actor MinSeok and her very own older sister, SeungYeon on stage every Sunday. Although she's busy with her TWICE promotions, she perfectly executes her lines with natural wit and humor.
Where We'll See Her Next
Fans will be able to see lots of JungYeon for days to come! TWICE is currently one of the most sought after girl group in the industry. With their variety show appearances and promotional events, JungYeon and TWICE will be headed your way in every shape and form for the next few months. The only thing that got us worrying is how the girls will take care of their health amidst such demanding schedules! Stay healthy, JungYeon!
See you next week for another installment of Kpopmap Woman Crush Wednesday's star!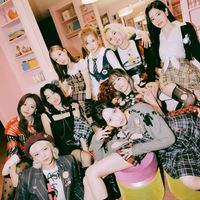 Became a fan of TWICE
You can now view more their stories