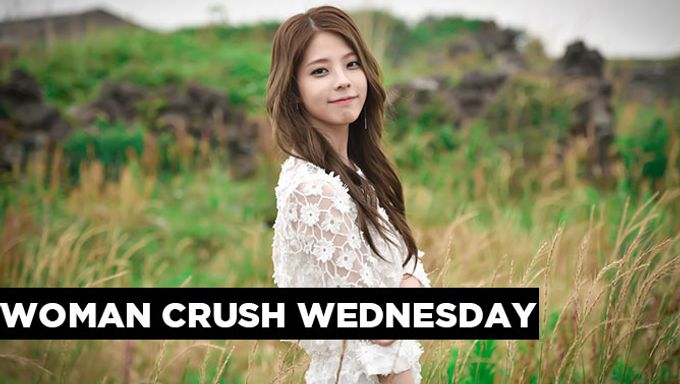 Welcome to another edition of Kpopmap's Woman Crush Wednesday, where we empower women to become all that they dream to be!
Women are beautiful. Women are strong. Women are powerful. We want you girls (and guys) to be inspired to be able to become whatever you aspire to be! That's why we created the Woman Crush Wednesday segment for our readers. Here we share the detailed profile and story about one of the hottest female K-Pop idols, who's story can inspire you go work hard to fulfill your dreams. Work hard, play hard, amirite?!
Must Read : Woman Crush Wednesday: IU
You all know who she is, but did you know this about her? Let me introduce you to the glass doll-like singer songwriter, Juniel!
Woman Crush Wednesday: Juniel Edition
Juniel
(Choi SuhAh)
Who's Our WCW?
Our woman crush, Juniel was born on September 3, 1993 as Choi JunHee. Ever since she was young, Juniel had been mesmerized by musicians and art. She learned to play guitar in middle school and wrote her first song when she was sixteen. Juniel's career could be debated as starting in Japan. She had won the Japanese audition program, "Niji Iro Supernova", and went on to train in Good Entertainment, until moving to FNC Entertainment. With her extensive experience in Japan, she's not only released albums in Korea, but also just as much in Japan. Being the first female artist of FNC Entertainment, we can say that Juniel paved the way for the other female generations of FNC artists!
Why We Crush
Let's go over the long list as timely as we can. Juniel is definitely a multi-talented, strong-willed artist. In a world where cutesy or sexy dance groups prevail, she's made her spot in the competitive K-Pop arena as a solo singer songwriter. She's released as much Japanese records as Korean, and she's won awards in both industries. What's even more amazing is that Juniel has persevered against being compared to the K-Pop super star of similar style, IU. As Juniel faced criticisms, she proved that she's a musician of her own with her own hit tracks and simply continuing on her own path. She was sited to have mentioned that as FNC grew with the addition of CN Blue and AOA, she felt the FNC CEO forgot about her. Just before her contract date was off, FNC reps had given her a song on Friday, recorded it on Saturday, filmed the MV on Wednesday and released it within a week. Although she could have had sour feelings towards the company for lacking in attention and support, she put on her signature smile and walked away on good terms. As she left, FNC artists showered her with congratulatory remarks and their goodbyes to their FNC veteran. We think this summarizes just how professional she is!
우리 고마운 FNC 아티스트 가족들도 끝까지 응원해줘서 너무 고마워. 사랑해❤️ pic.twitter.com/KO903G1JEo

— JUNIEL (주니엘) (@junielism) January 20, 2016
Where We've Seen Her
Juniel's most famous for her soft, easy-to-listen vocals. We've just discussed how Juniel's been paving her own career through her own style of music. Her most notable hits in Korea were "I Think I'm In love", "Pretty Boy", "Sorry" and more. Not only have we seen her on her hit tracks, but she's also been active as a duet with various musicians! She collaborated with Jung YongHwa of CN Blue in "Fool", with PHANTOM's HanHae for "Love You More Than Ever" and as 1/2 of duet group Romantic J with Lee JongHyun of CN Blue for "Love Falls".
Where We'll See Her Next
After leaving FNC Entertainment, fans wondered when we'll be able to see Juniel again. Well, fans won't have to wait any longer, because her new single "Pisces" just landed today! Juniel had signed with C9 Entertainment just a few months ago, and has already released her first comeback song. C9 is home to other famous names, such as YounHa, Jung JoonYoung and Cheetah. We can't wait to see her promotions planned for "Pisces"; and do we expect a C9 artist collab coming around soon? We'll just have to wait and see! Congrats, Juniel!
See you next week for another installment of Kpopmap Woman Crush Wednesday's star!
xoxo