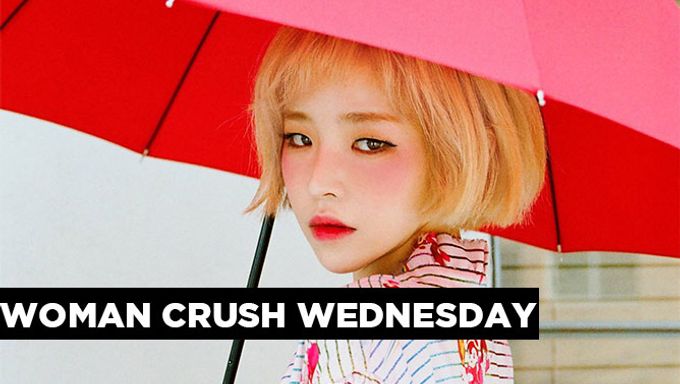 Be inspired and empowered by the sexy femme fatal, Son Ga In of the Brown Eyed Girls.
We've all got dreams, but we've all got our own insecurities that hold us back. That's why we want to introduce you to the K-Pop femme fatal of confidence, GaIn. She's experienced all the hardships and doubts that we go through each day, but GaIn never let it stop her achieve her ultimate goals.
Must Read : Teaser )) Gain – Carnival #1
Go ahead, girlfriend. Be GaIn-spired!
Woman Crush Wednesday: Son Ga In of Brown Eyed Girls
GaIn
(Son Ga In)
Who's Our WCW
GaIn, also known as Son Ga In or Baby-G, was born on September 20, 1987 in Seoul. Much like a lot of the K-Pop idols we know, GaIn's K-Pop dream started early on in her life. She loved to sing, was good at singing, but was ultimately eliminated on the popular reality series, "Let's Coke Play! Battle Shinhwa!". But GaIn's destiny was written in the stars. The other members of Brown Eyed Girls had seen her perform on the show and asked the company to audition her for the group. And so, GaIn became the maknae for the sexy diva group, Brown Eyed Girls, who debuted in 2006.
Why We Crush
Although she had the passion and the talent, GaIn was constantly held back by insecurities. In an industry where model heights and big doe-like eyes were praised, her petite stature and monolid eyes became her complex. GaIn even considered going under the knife to fit in with the typical K-Pop stereotype. Thankfully, she came to her senses. She didn't need to give in to her insecurities. She marched forward strong with who she was. Low and behold, she became one of the most sexiest and most confident icons of K-Pop. She showed us it's not about what others think, but how you feel about yourself.
Where We've Seen Her
GaIn's an icon of confidence and an inspirational beauty, but she's also mega talented. She has an amazing voice, but she's got the stage attitude of a star. With her confidence and charisma, it just made sense that she'd become one of the hottest sexy idols. GaIn has an overflowing amount of hit songs as a Brown Eyed Girls, but her sexy femme fatal only really shined during her solo activities. With hit solo songs, such as "FXXK YOU", "Bloom", "Paradise Lost" and more, GaIn solidified her mark as a legendary legend.
Where We'll See Her Next
GaIn fans were most excited to hear the latest comeback plans for our Queen. GaIn will be making her long awaited comeback with her 1st full length album, "End Again" with the title track "Carnival". Her album will drop on September 9th at midnight. Starting on the 9th, GaIn will be back owning the stage for her promotions for her new album.
See you next week for another installment of Kpopmap Woman Crush Wednesday's star!