How can someone with such an impossible visual be so crush worthy inside and out? Find out all the lovable points of our week's crush, Son NaEun of APink!
She's best known for her undeniable good looks and unbelievable body proportions - that's why shes the main visual member of world famous, APink! We always talk about beauty and brains, but that's just a given for Son NaEun. She's got the god-gifted talent for making everything pretty, especially when it comes to her remarkable fashion tastes!
Must Read : Korean Beauty Tip Tuesday: APink NaEun's Moisture Packed Skin Care
Check out how Son NaEun has the world at the palm of her hands through her crush worthy charms and appeals!
Woman Crush Wednesday: Son NaEun of APink
NaEun
(Son NaEun)
Who's Our WCW
Son NaEun was born on February 10th, 1994 in Seoul, South Korea. She debuted as the vocalist, lead dancer and visual member of APink on April 21, 2011. Although she received love and praise for her good looks, she's got the brains to be accepted into Dongguk University for drama and film. She even went on to be named the ambasador for the school, alongisde SNSD's YoonA. NaEun's also debbled in acting since 2012, eventually landing the 2nd female lead role for "Cinderella and Four Knights", which aired just this past year. With brains, talent and beauty, she's in charge of the 'sweet girl next door' image of APink, but she's a true tomboy at heart! 
Why We Crush
NaEun is an accomplished singer, actor, intellectual and ambassador, but she's also got a killer fashion sense. She has amazing visuals, but she totally nails her outter beauty with an incredible fashion sense. Her instagram is basically a look book inspiration paradise! Unsurprisingly, NaEun is on the guest lists for various top class fashion events, and is often named as the fashion icon to many. With beauty from inside and out, it's no wonder Son NaEun is our crush of the week.
Where We've Seen Her
She may be the center visual during APink's performances, but she's also garnered much attention for her pairing on "We Got Married" with SHINee's TaeMin! The two matched so well with their slim statures and beautiful visuals. Add in a couple skinships and lovey dovey romance inbetween, and we have an idol couple to ship for. Though the couple's feature appearance ended 3 years ago, the TaEun followers continue to await the two idols to officially announce their reunion - perhaps as a real life couple?! We can only dream...
Where We'll See Her Next
Although it'll be difficult to see the lovey dovey days of the Taeun couple again, but we just might catch a glimpse of the two's interaction at the upcoming music award festivals! APink has been busy with the release of their 3rd full album, "Pink Revolution" this past summer. NaEun and the girls make a quick return to the stage with their winter special album, "Dear"! The album is set to be released on December 15th - just in time to spend the holidays with APink and NaEun~
She's got us hooked & she knows it~  😉 
See you next week for another installment of Kpopmap Woman Crush Wednesday's star!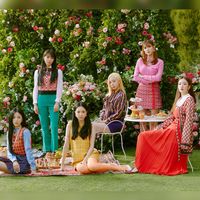 Became a fan of Apink
You can now view more their stories