Our woman crush of the week is none other than the tall goddess of Dal Shabet, SuBin!
Some people were just born on the golden runway, and some of us have to get ourselves there through sweat and tears. SuBin may seem to be living the good life now, but she worked her butt off ever since she was young to achieve everything that she deserves now.
Must Read : Teaser )) Dal Shabet – FRI. SAT. SUN (Weekend Ver.)
Let us inspire you with the story of our goddess fighter, SuBin of Dal Shabet.
Woman Crush Wednesday: SuBin of Dal Shabet
SuBin
(Park SuBin)
Who's Our WCW
SuBin was born on February 12, 1994 in GwangJi, South Korea. Growing up, she was always the happiest when making music. Naturally, it made sense for her to pursue a career in K-Pop. On January 3, 2011, she debuted as the youngest of the girl group, Dal Shabet. They were unable to garner much attention in the beginning, but people began to fall in love with SuBin's blunt charms and her cute Jeollado dialect. Just as she thought that things were going her way, SuBin and her manager were involved in a car accident that severely injured her right leg. Due to the injury, SuBin and Dal Shabet were put on a temporary musical hiatus.
Why We Crush
SuBin is a fighter. She is a survivor, and she is an achiever. Ever since she was young, she knew that the show business was her true calling. At the young age of 15, she moved to Seoul by herself to pursue her dreams. Because of her tall height and lean, model-like body, SuBin started off as jeans model when she got to Seoul. After being cast into Happy Face Entertainment, she debuted in Dal Shabet. However, the company was small and the girls were unable to make much of an impact. That didn't stall our girl crush. She dove head in and took charge by working her butt off to make her presence known through variety shows. SuBin made a name for herself, and even after the horrific car accident, SuBin continues to thrive to become her best self.
Where We've Seen Her
We know her as the adorable "giant baby" of Dal Shabet, but SuBin is also a fantastic artist. You've probably seen her various works all throughout Dal Shabet's discography. Most recently, SuBin debuted as a solo artist with her single album "Flower". The two songs, "Hate" and "Flower", were both written and produced by none other than SuBin. With both beauty and talent, it'd be ridiculous not to know of our weekly woman crush.
Where We'll See Her Next
Dal Shabet is making their way to you very soon (literally in just a matter of hours)! Dal Shabet's 10th mini-album will be dropping tomorrow, September 29, 2016. Their album will be titled "Fri, Sat, Sun" with the title track of the same name. With their new album, we'll be able to see more of our lovely SuBin on TV, broadcasts and concert events. Are you as excited about it as I am?!
See you next week for another installment of Kpopmap Woman Crush Wednesday's star!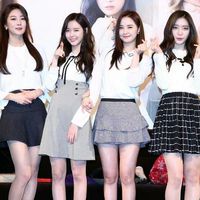 Became a fan of Dal Shabet
You can now view more their stories