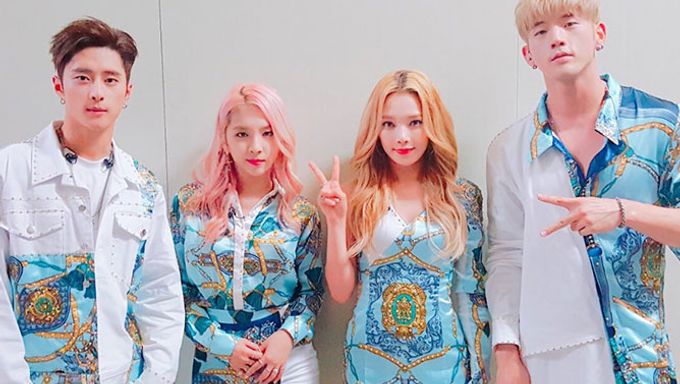 Performance isn't just about singing or dancing. It's all that and more. From the background like the stage effects and the stage itself, the very detailed matters like the clothes, nails, hair or performers. Everything matters on stage, even those bits that you may think doesn't matter. 
It's a job for idols to perform well on stage. It's a job of the camera man to catch their performance nice and clean. It's a job for the director to set up stage effects and the stage. It's a job for the fashion coordinators to make the most outstanding outfit that would make the performers stunning. 
K.A.R.D's fashion coordinators seem to be doing their work pretty well. K.A.R.D's fashion is always about individuality and at the same time, about being a group. Their outfits make each member all stand out, but also give them unity! That's exactly how a group needs to look like right? 
Here are some of the cutest matched clothes of K.A.R.D shown on stages!
1st - Black and Red is the SEXY color
2nd - Blue and White is the PURE color
3rd- Hawaiian Yellow is the Distinctive color 
4th - It looks like they didn't match but they do look like they've matched! 
5th- This is what we call reforming clothes
Must Read : Idols' Ideal Types 2017 Compilation: K.A.R.D