It has been 2 days since X1  debuted but their fans, ONE IT, are still hyped up over their debut show-con which had taken place in Gocheok Sky Dome.
During their show-con, the 11 members performed to songs that were released during Mnet "Produce X 101" such as 'Move', 'U GOT IT' and 'Pretty Pretty'.
X1 turned the heat up when they performed to their version of 'U GOT IT'. For those who would recall, 'U GOT IT' received most number of votes during the group evaluation on Mnet "Produce X 101" and it is also known to give off a sexy vibe.
As they performed the song, member Cho SeungYoun surprised not only Kim WooSeok but also the fans when he suddenly pulled off an unexpected move.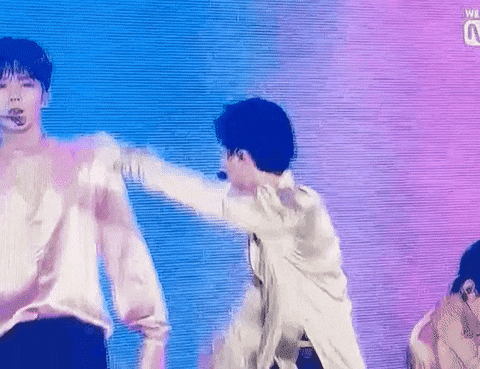 Cho SeungYoun had turned Kim WooSeok's chin slightly during his part and it seems like even Kim WooSeok was surprised by the impromptu move!
Looking at how Kim WooSeok was surprised, fans were also wondering how surprised he was because of Cho SeungYoun's actions.
Many left comments such as "Kim WooSeok was shocked", "Cho SeungYoun pulled unexpected move", I am shocked too but I love it," and so on.
X1 will be promoting their debut title track 'FLASH' on Mnet "Mcountdown" on Aug. 29, 6 pm KST.
Were you also surprised by his impromptu Move?
Read More : Eliminated Trainees From "Produce X 101" & K-Pop Idols That Attended X1 Debut Premier Show-Con