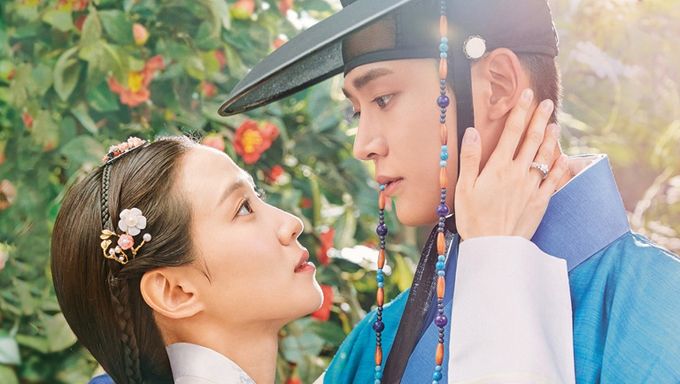 "The King's Affection" also called "Affection" or "Yeonmo" is a romantic historical drama based on the manhwa of the same title.
SF9's RoWoon and Park EunBin are the lead actors.
RoWoon is a popular rising actor. He has acted in dramas such as "About Time", and "Where Stars Land". The idol-actor especially gained attention for his good acting with the drama "Extraordinary You" in 2019 for which he gained several awards and in 2021, he was the lead in "She Would Never Know".
Park EunBin is also a popular rising actress. She has acted in numerous dramas including "Judge vs. Judge" and "The Ghost Detective". The actress especially received the spotlight for her good acting in "Hot Stove League" and "Do You Like Brahms?".
It is going to be the first historical drama of RoWoon, even if fans got a glimpse of him in a historical set in "Extraordinary You". As for Park EunBin, she is already experienced with the genre. Many are already looking forward to their romance.
Nam YoonSoo ("Extracurricular"), VICTON's ByungChan ("Live On"), Bae YoonKyung ("Hi Bye, Mama!") and DIA's Jung ChaeYeon ("My First First Love") joined the cast.
The director Son HyunWook ("Beauty Inside", "Another Miss Oh", "Graceful Friends", "Marriage, Not Dating") and writer Han HeeJung ("Clean with Passion for Now", "Gunman in Joseon") are in charge.
Here is more information.
The King's Affection (2021)
Information
Title: The King's Affection / Yeonmo / Affection/ Yeonmo / 연모
Director: Son HyunWook
Writer: Han HeeJung story by Lee SoYoung
Network: KBS, Netflix
Runtime: From Oct. 11
# of Episodes: 20
Genre: Historical, Romance
Language: Korean
Summary
It is the secret court romance drama of a woman who was abandoned because she was born as a girl. When her twin brother died, she began to pretend to be him: the crown prince while trying to keep her identity and affection for her first love.
Cast
Park EunBin as Lee Hwi
Lee Hwi became the fake crown prince after the death of her twin brother. She is carrying a secret that she has no choice but to hide. She is fighting every day to hide her identity and has to keep a poker face.
She is as white as the snow and her eyes are as cold as the ice and she has a dignity that cannot be reached. She keeps a poker face and lets no one easily come closer to her because she is a fake crown prince living the life of her brother.
SF9's RoWoon as Jung JiUn
Jung JiUn is the teacher (royal tutor) and first love of Lee Hwi. 
He is a tenacious and persevering Joseon man. He also is optimistic and never misses fun things.
There is a special story behind the fact that this talented son from a government official is living his own life and did not take the one drawn by his family.
Nam YoonSoo as Lee Hyun
Lee Hyun is a friend of the royal family who is friendly, considerate, and polite. He grew up with Prince Lee Hwi since they were young like real brothers.
VICTON's ByungChan as Kim KaOn
Kim KaOn is the guard of Prince Lee Hwi.
He does not show his emotions and silently stands by the crown prince like a shadow. He has a secret past.
Bae YoonKyung as Shin SoEun
Shin SoEun is the Minister of Interior's only daughter.
She is a gorgeous and confident noblewoman who says what she wants to and gets what she wants. She wants to be the wife of the crown prince but meets Jung JiUn and her life is full of worries now. 
DIA's Jung ChaeYeon as No HaKyung
No HaKyung is the Minister of War's only daughter.
She grew up loved and she has a pure soul. She meets the man that she will fall in love with and do everything for.
Posters & Teaser
Here is the first teaser.
Here are the official posters.
About the Manhwa
The manga "Yeonmo" is manhwa by Lee SoYoung. You can read the books online here in Korean.